Sitting in Section M9, Row E at Falcon Stadium at the US Air Force Academy. We're here for the AFA graduation ceremony — one of our 'semi-adopted' sons, Matt Flynn, is graduating today and getting married on Saturday. As it turns out, the commencement speaker is none other than the President of the United States, Barack Obama. On our way into the stadium, I took a photo (with my iPhone) of a long row of empty parking stalls designated for media (see below).
Gotta love the AFA, though. A few minutes ago, the announcer on the PA system called our attention to 'an unmanned aerial vehicle' over on the southeast corner of the mezzanine that is (as best as I can remember the language) 'designed for interdiction against perishable targets' — or, as I turned to Sandra and said, "It's a killer drone." Heh. I also like the fact that the jumbotron on the scoreboard shows military types going through an obstacle course, including bayonetting dummies. Not many college commencement exercises where you'd see that. God bless the USAF, and may our enemies ever fear us.
More later. Maybe. below. In the meantime, here's the podium area.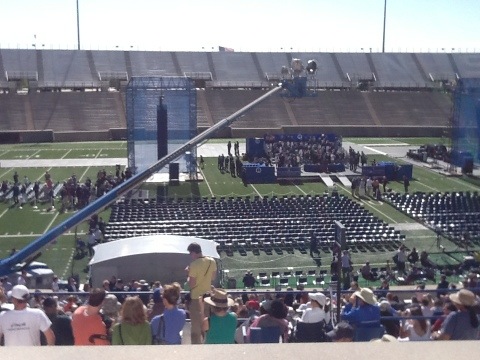 0930 MDT
Black limos and SUVs are coming out of the north tunnel and lots of men in dark suits have appeared. I assume the President will be making his appearance shortly.
In the meantime, here's the photo I shot earlier: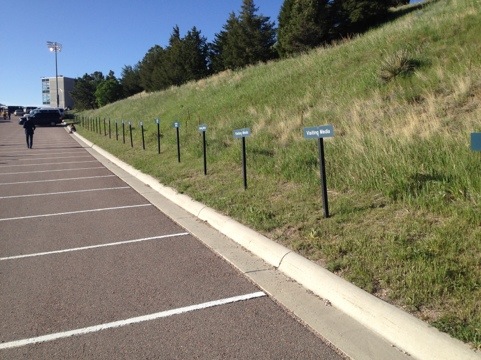 0955 MDT
Apparently, the President has been hanging out behind the podium for the last 25 minutes. On the other hand, it's high (we're at 7000'+), dry, sunny, and warm moving towards hot, so I can't blame him much.
Big cheer, and the crowd comes to its feet…for the AFA class of 2012, which has just appeared at the north tunnel.
1013 MDT
I was wrong — Pres. Obama was waiting in the north tunnel as well and walked out after the graduuating class and after the Sec'y of the USAF, the AFA Commandant, and a few AFA leaders. The applause for Pres. Obama was not as strong as for those who preceded him, though there were cheers — but there were also some scattered (and clearly audible) boos.
Couldn't see if Pres. Obama had his hand over his heart during the National Anthem.
1022 MDT
Sec't of the Air Force Michael Donley is now speaking and introducing Pres.Obama. "The President's leadership has produced a number of national security accomplishments" — aside from killing OBL, they are mostly missteps, IMHO. "Having persued a career of public service himself, Pres. Obama understands the service of the military."
Pres. Obama is now speaking. And, yes, I can see teleprompters. General introductory remarks; call out for leaving Chief of Staff — and, yes, Obama just mentioned OBL himself, as well. Tells a few good inside-AFA jokes. "Four years ago, you arrived at a time of great challenge. We were engaged in two wars…our relations around the world were strained…we were in the worst recession since the Great Depression. You are graduating into a new world. For the first time in 9 years, there are no Americans fighting in Iraq." [wait for it] "We killed OBL" (or words to that effect). "As more Afghans step up, more of our troops will come home. We are not just ending these wars, we are doing so in a way that makes us safer and stronger." Once again avoiding the word 'victory'.
"For a decade, we have labored under the dark clouds of war. But now we can see the light ahead. Ending these wars also ensures that the burden of our security no longer falls so heavily upon your shoulders. Around the world, the United States is leading once more. Our alliances are stronger than ever. Our ties are even deeper. We are leading on global security, reducing our nuclear arsenal with Russia even as we maintain a nuclear deterrent…We are leading economically, boosting our exports…We're expanding exchanges and collaborations in areas that people often admire most about America…….We're standing with the people of the Middle East as they seek liberty…Helping to liberate Libya, where we led _from the front_." (Emphasis his). "There's a new confidence [around the worlld] in our leadership….Of course, the world stage is not a popularity contest…But make no mistake: how we're viewed in the world has consequences." Yep.
"The United States is stronger and safer and more respected in the world….Let's put aside the tired notion that we're weaker or that America is in decline….During the Great Depression, some thought it was the end of capitalism. But we went on to create the greatest middle class ever…Because of our dedication for the values we stand for, the Berlin Wall came tumbling down [and what caused that, exactly?]….Never bet against the United States of America. The United States has been and always will be the one indispensible nation in the world. America is exceptional, and the 21st century can be another American century. We'll pay down our deficits, reform our tax code, andn [something else that's a standard Republican talking point]."
"We must be vigilant [in defense of the US]…We will maintain our military superiority in all areas…and as our veterans rejoin American life [he earlier mentioned the military becoming 'leaner'], we will be sure they get all the benefits coming to you." Mentioning Libya and Afghanistan again. "I see an American century, because no other naton seeks the role we play in global affairs and no other nation can accomplish our role in global affairs." Metioned "combating climate change". "More and more people are reaching towards the values and goals that we do." Sounds a lot like Bush throughout much of this address. "Sure, there will always be governm,ents that resist the tide of democracy…We welcome freedom; they don't" [etc.] "We stand with the student in the street…we stand with women everywhere…we stand with activists, entreprenuers, all those who strive for justice and freedom."
More talk about American exceptionalism and capability, ending on a rousing note. I'm wondering where is the Obama who talked about "at some point, you have enough money" and "you can't keep your SUVs" and "we can't be the world's policeman". Again, Bush, McCain, or Romney could have given this speech — but they would have been (IMHO) at lot more credible doing so — and the media would probably have described it as "right-wing red meat".
Good applause at the end of the speech — not surprising, since there wasn't much to object to in the talk. However, Pres.Obama was just presented the "Distinguished American Award" from the USAFA, and the applause was pretty tepid.
1106 MDT
Classy move, though: Pres. Obama is saluting and shaking the hand of every graduating cadet. Good for him.
1132 MDT
Up to Squadron 10 (out of 40); Matt, the cadet we came for, is in Squadron 23. Probably have another 45+ minutes to go before they're all done (they seem to be speeding up as they go along). In the meantime, I went to use the facilities. I fully understand and sympathize with women about bathroom facilities at sports venues like this. There were fully 60+ women waiting in line for the women's bathroom. There was no line at all for the men's room. Of course, the urinal in the men's room consisted of two walls at right angles with a 12″ wide trough running along their base.
My wife, commenting on Obama's address, said she found herself listening to what he said and thinking, "Does he have no sense of irony about what's he's saying?" She also noted that Obama said nothing about the Constitution and individual rights and freedoms within our own country.
1153 MDT
The sun is getting pretty intense, even if the air is still pleasant. My Logitech iPad keyboard is starting to get hot to the touch. I give sincere and serious props to Pres. Obama for going the distance in saluting and shaking the hand of every single graduate.
True fact: there's a USAFA Class of 2012 graduate named James Fenimore Cooper (Squadron 16).
1231 MDT
Up to Squadron 35 (out of 40). Clouds have been moving in from the north and are now largely blocking the sun, cutting the heat significantly. Actually, the clouds to the north look as though they could bring rain, but if they do, it probably won't happen until later this afternoon. Once the graduation ceremonies are over, the USAF Thunderbirds are going to put on an air show.
Kids ("ages 7 to 10") are gathering at the south end of the football field. They get to collect and keep the hats that the cadets throw into the air at the end of the graduation ceremony. Great tradition.
1249 MDT
All graduated and commissioned. It was worth the time and the heat just to be here when a few thousand cadets newly-commissioned 2nd Lts threw their caps into the air as five jet fighters roared past overhead. Still have the air show to watch.
1526 MDT
Home at last. It took us 40 minutes to get our car the 100 yards or so from where it was parked to the nearest on-campus road, and only about that long to make the 45-mile drive from USAFA to our home. You can real the full (as prepared) transcript of President Obama's remarks here.
Category: 2012 Election, Main, Obama Administration
Webster is Principal and Founder at Bruce F. Webster & Associates, as well as an Adjunct Professor of Computer Science at Brigham Young University. He works with organizations to help them with troubled or failed information technology (IT) projects. He has also worked in several dozen legal cases as a consultant and as a testifying expert, both in the United States and Japan. He can be reached at bwebster@bfwa.com, or you can follow him on Twitter as @bfwebster.