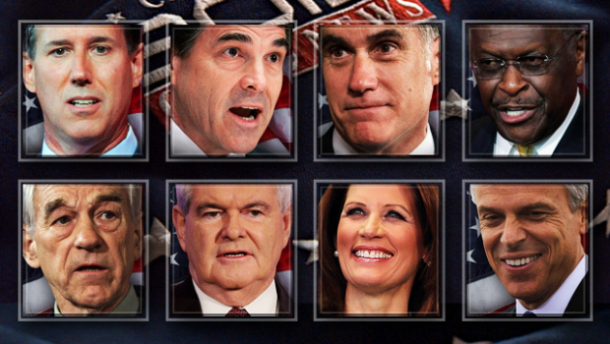 Among the election post-mortems I'm reading this morning, I see a frequent refrain about how Mitt Romney wasn't a strong or ideal candidate. My immediate question is: compared to whom? Here are the GOP candidates who entered the race and stuck around long enough to participate in the initial debates. Who among the other seven candidates would have campaigned as well and drawn as much support as Romney? For those struggling to remember who all these folks are (top left to bottom right):
Rick Santorum
Rick Perry
Mitt Romney
Herman Cain
Ron Paul
Newt Gingrich
Michele Bachmann
Jon Huntsman
If Romney wasn't the best candidate, who of the other seven would have fared better against Obama and the media? And if there were better potential candidates than these eight, then why didn't they run? ..bruce w..
Category: 2012 Election, Main
Webster is Principal and Founder at Bruce F. Webster & Associates, as well as an Adjunct Professor of Computer Science at Brigham Young University. He works with organizations to help them with troubled or failed information technology (IT) projects. He has also worked in several dozen legal cases as a consultant and as a testifying expert, both in the United States and Japan. He can be reached at bwebster@bfwa.com, or you can follow him on Twitter as @bfwebster.