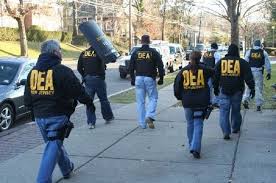 My wife was checking voicemail messages on our home phone tonight and found the following message, received on our home phone at 1431 pm MDT:
Hello, this message is for Sandra Webster.
This is Special Agent William Rice[?] from the US DEA office in Washington DC.
Please contact me as soon as possible at 202.241.5693.
This call is in regard to federal charges and a warrant that is being issued to bring you into custody.
You can reach me at 202.241.5693.
This is for prescribed meds that you had purchased and received coming from overseas.
Now, when we first moved to Colorado 8 years ago, and before we found a doctor, Sandra had ordered some prescription refills online, but she stopped (and we found a doctor) when a package with one of the prescriptions came from Pakistan. So Sandra, needless to say, was concerned. I had a hard time believing that, even under the current Administration, the DEA would issue an arrest warrant for a housewife buying a few prescriptions online 8 years ago (my first thought was that the statute of limitations had expired), so I decided to do some research online.
The Internet, as always, is a wonderful reality check, and I found site after site talking about "Agent William Rice [or Wright]". Other names apparently are also used (e.g., "Brian Torres" or "Thomas Harrington"), and in some cases, the sound of a police scanner or radio in the background is heard. If you call the "Special Agent" back, or if you answer the phone when he calls, he will tell you that arrest and imprisonment is imminent, but he can get the charges dropped if you wire money to the US DEA office in . . . the Dominican Republic.
Really? The Dominican Republic? That should be a show stopper right there, but apparently not for everyone.
While the scam appears to have been going on for at least a few years, the real US DEA said recently (according to this news article out of LA)  that the scam is "happening all over the country and there's been an increase in activity over the last couple of weeks." According to the DEA, the scammers get customer information — including names, phone numbers, addresses, and in some cases credit card information — from overseas online pharmacies, which is how they are able to target people who have actually made online prescription drug purchases.
I'm planning a call to the DEA hotline number (877-792-2873) for this scam in the morning. So if you or someone who know has bought prescription drugs online any time in the past several years, be aware that you may get a a call like this one.  ..bruce..
Webster is Principal and Founder at Bruce F. Webster & Associates, as well as an Adjunct Professor of Computer Science at Brigham Young University. He works with organizations to help them with troubled or failed information technology (IT) projects. He has also worked in several dozen legal cases as a consultant and as a testifying expert, both in the United States and Japan. He can be reached at bwebster@bfwa.com, or you can follow him on Twitter as @bfwebster.