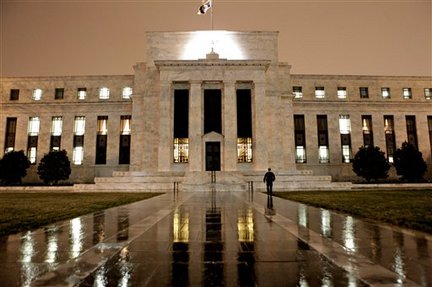 George Mellon over at the New York Sun writes:
How does an investor react to the news that a propped-up and thus over-priced asset may lose its props? His natural urge is to sell, of course, and that urge will soon be reflected in a decline in the asset's price.

So it is with Treasury bonds. When the Federal Reserve began hinting last spring that it may soon begin to "taper" its massive $85 billion monthly purchases of Treasury bonds and mortgage-backed securities, market fright was the result. The Fed purchases are the props that keep bond prices high and bond interest rates low. Despite later reassurances from the Fed that maybe the "tapering" won't come so soon after all, Treasury prices began to fall and interest rates rise.

Interest rates on the 10-year Treasury note has risen 66% since the "tapering" announcement. The big loser has been the Fed itself, which now has almost $2 trillion in Treasuries on its books. If the Fed were required to mark its securities to market, as private banks do, it would have posted a loss of $162 billion since the first quarter of this year, according to an estimate by Guggenheim partners. That number exceeds the capital of its 12 reserve banks, which is provided by member banks, and also the dividend earnings on its portfolio, which it delivers to the Treasury each year after deducting expenses.
Go read the whole thing.  ..bruce..
Category: 2014 Election, 2016 Election, Economics, Main, Obama Administration, Recession Watch
Webster is Principal and Founder at Bruce F. Webster & Associates, as well as an Adjunct Professor of Computer Science at Brigham Young University. He works with organizations to help them with troubled or failed information technology (IT) projects. He has also worked in several dozen legal cases as a consultant and as a testifying expert, both in the United States and Japan. He can be reached at bwebster@bfwa.com, or you can follow him on Twitter as @bfwebster.