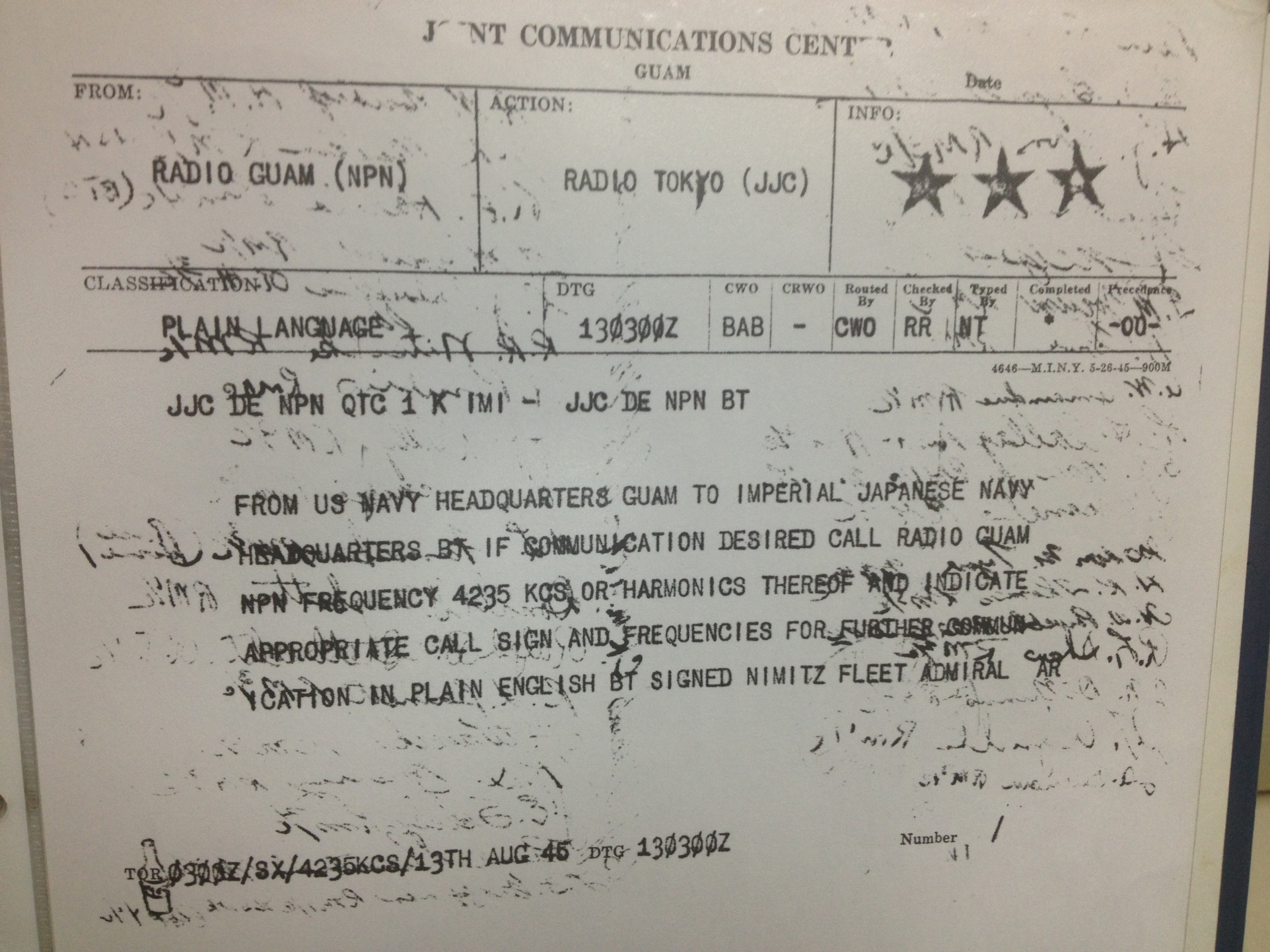 Today is the anniversary of the surrender of Japan to the United States. As it turns out, my father John Webster — as a 21-year-old US Navy radioman on Guam in August 1945 — was involved in sending the message from the US Navy to the Japanese Imperial Navy on how to reach them for surrender talks. My mom (whom I'm visiting this weekend) showed me a scrapbook she put together before my father's death in 1997 documenting his life, including his 29-year Navy career. It includes the copy above of the transmission sent out on 13 August, 1945 — just a few days after the US dropped atomic bombs on Hiroshima (8/6) and Nagasaki (8/9). Here's the text of the message:
FROM US NAVY HEADQUARTERS GUAM TO IMPERIAL JAPANESE NAVY BT IF COMMUNICATIONS DESIRED CALL RADIO GUAM NPN FREQUENCY 4235 KCS OR HARMONICS THEREOF AND INDICATE APPROPRIATE CALL SIGN AND FREQUENCIES FOR FURTHER COMMUNICATION IN PLAIN ENGLISH BT SIGNED NIMITZ FLEET ADMIRAL AR
"BT" means "break transmission" and is used to signal the beginning and end of the actual message text. The writing that is showing through from the backside is from the signatures of the other radiomen on Guam involved. They knew the war was about to be over. ..bruce..
[NOTE: updated photo with a better shot that shows the "JOINT COMMUNICATIONS CENTER / GUAM" header.]
[NOTE: inserted the reference to the atomic bomb drops on Hiroshima and Nagasaki.]
Category: Family, Geopolitics, History, Main, Military
Webster is Principal and Founder at Bruce F. Webster & Associates, as well as an Adjunct Professor of Computer Science at Brigham Young University. He works with organizations to help them with troubled or failed information technology (IT) projects. He has also worked in several dozen legal cases as a consultant and as a testifying expert, both in the United States and Japan. He can be reached at bwebster@bfwa.com, or you can follow him on Twitter as @bfwebster.