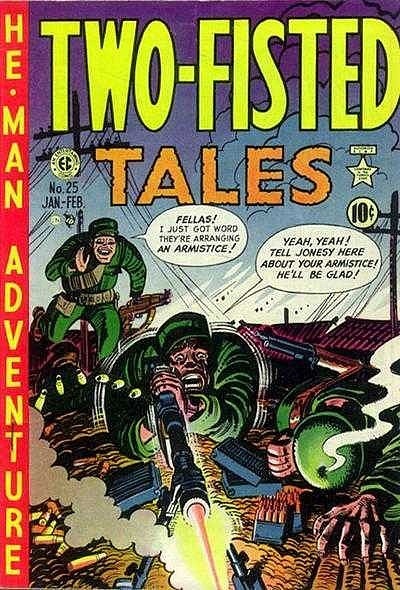 Harvey Kurtzman — to the extent he is remembered — is remembered for his iconic stories and drawing style from EC's classic (and ultimately banned) horror comics, such as Tales from the Crypt. But, as this article by Matthew Gault over at War is Boring explains, Kurtzman pioneered a realistic, non-propagandist style of war comics back when the Korean War was going on:
"In my war comics, I avoided the usual glamorous stuff of the big good-looking GI beating up the ugly little yellow man," Kurtzman said years later. "I felt that people should know the truth about war and everything else."

There were no heroes in Kurtzman's world. Just men trapped in desperate situations on both sides, beset by powers they don't understand and trying their best to get by in a world filled with horror.

In the Korean War comic "Corpse on the Imjin," Kurtzman tells the story of a U.S. soldier eating on the bank of a river as a corpse floats by. The soldier wonders where the corpse came from, when he's attacked by a North Korean soldier hiding in some nearby bushes. The soldier drowns the North Korean in the river?—?and sets the body downstream with the others.
Worth a read. ..bruce..
Category: Comic strip, Main, Military
Webster is Principal and Founder at Bruce F. Webster & Associates, as well as an Adjunct Professor of Computer Science at Brigham Young University. He works with organizations to help them with troubled or failed information technology (IT) projects. He has also worked in several dozen legal cases as a consultant and as a testifying expert, both in the United States and Japan. He can be reached at bwebster@bfwa.com, or you can follow him on Twitter as @bfwebster.