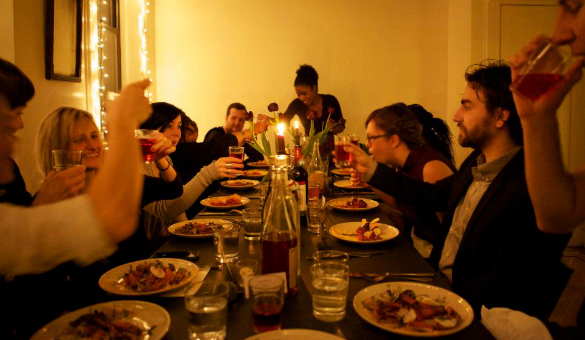 Hat tip to Reason for pointing to this CBS-2 exposé of illegal underground dinner parties in New York City:
Clandestine dinner parties like the one Leitner attended have become more common in New York City. And insiders told Leitner they are completely unregulated.

When asked at the dinner, "do you ever worry about getting caught?" Michael Patlazhan responded, "I definitely do."

Patlazhan is a professional chef who also hosts underground supper clubs. He cooks with blow torches, nitrogen and even a vacuum machine to create unusual meals.

"That's the things with supper clubs, they're in a sense illegal just because they are underground no one knows about them. So if the Health Department did come they would obviously shut it down. So there's always a little bit of worry," Patlazhan said.
The real issue, of course, is that those who attend are charged "from $40 to several hundred [dollars]." That opens the door to regulation. But…really? This is what investigative reporters in NYC do? ..bruce w..
Category: Cooking, Creeping socialism, Food, Idiot bureaucrats, Main
Webster is Principal and Founder at Bruce F. Webster & Associates, as well as an Adjunct Professor of Computer Science at Brigham Young University. He works with organizations to help them with troubled or failed information technology (IT) projects. He has also worked in several dozen legal cases as a consultant and as a testifying expert, both in the United States and Japan. He can be reached at bwebster@bfwa.com, or you can follow him on Twitter as @bfwebster.