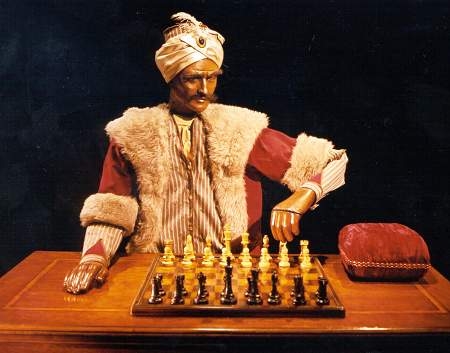 Decades ago, while home for the holidays from college, I attended a church-sponsored all-night New Year's Eve party for college students. The organizers, whom I knew, had cozened me into providing (for a few hours) one of the on-going entertainments. They had crudely decorated a refrigerator box to look like a mainframe computer and labeled "THE GREAT COMPUTER ORACLE" or something like that. I sat inside on a chair. Party-goers wandering by could write questions on blank computer cards and push them into a slot labeled "INPUT"; I would write an answer on the card and push it back out through a different slot labeled "OUTPUT". The questions tended to be silly or (my favorites) mildly flirtatious; I tried my best to be witty, or at least funny.
In a tongue-in-cheek fashion, I was merely carrying on a long-standing tradition over centuries of false automata, mechanical devices that appear to act with skill and intelligence but that, in fact, are actually being operated by humans behind the scenes. The most famous of these is the Turk (pictured above), a device built in the late 1700s that appeared to play a very good game of chess against humans. In truth, a human chess player was ensconced within the device's cabinet with the ability to perceive the current state of the board. Note that the Turk himself was a very real mechanism, capable of picking up any chess piece and moving it to a specific location on the board. But it was human actions behind the scenes that actually allowed it to play chess.
Healthcare.gov at present is largely operating as a false automaton. Most of the repair effort to date has been on the presentation, the front end, the user interface — the Turk, if you will. You can interact with the website — if you're lucky and it hasn't reached its current limit of simultaneous users. But you can't actually buy and pay for an insurance policy through the system — the payment system has yet to be written, or at least finished. Instead, end-users are being told to contact their (new) insurers directly to make payment. Reports have leaked out about how much manual work is being done behind the scenes to clean up data. The much-touted Federal subsidy systems isn't working, and so the new position is: make a guess and correct it later. Oh, and even if you think you've successfully completed your application, you may not have.
This isn't an Amazon-like shop-and-compare system. It is a fraudulent Turk, with not a single human but a whole host behind the scenes, trying desperately to make it look as though it works smoothly and successfully. I am surprised — but probably should not be — that this Administration has doubled-down and is going to continue to foist this monstrosity on the American public, hoping to buy time — as Megan McArdle perceptively notes — until 2015.
To switch metaphors violently, it is in fact like watching Ahab chase Moby Dick against all reason and purpose. The question is, which of us will escape the wreckage thereof? ..bruce w..
P. S. Click here to see all my Obamacare posts.
Category: 2012 Election, Creeping socialism, Healthcare Reform, Idiot bureaucrats, Information Technology, Liberal Meltdown, Main, Obama Administration, Obamacare
Webster is Principal and Founder at Bruce F. Webster & Associates, as well as an Adjunct Professor of Computer Science at Brigham Young University. He works with organizations to help them with troubled or failed information technology (IT) projects. He has also worked in several dozen legal cases as a consultant and as a testifying expert, both in the United States and Japan. He can be reached at bwebster@bfwa.com, or you can follow him on Twitter as @bfwebster.