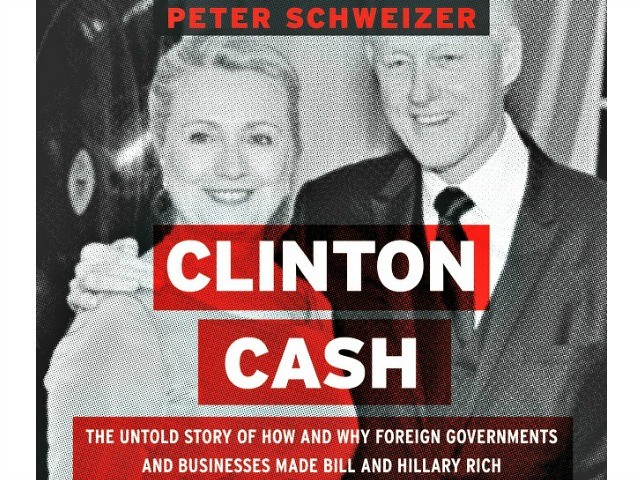 [5/6: made a few minor edits for clarification]
I received "Clinton Cash" by Peter Schweizer on Tuesday (5/5) and read it completely before I went to bed. About two-thirds of the way through, it struck me: this was like reading an over-the-top political satire by Christopher Buckley. All the usual elements were there: charming (and not-so-charming) American politicians on the make, wealthy businessmen of dubious ethics, multinational business and real estate deals of dubious provenance, shell corporations, complex and obscured financial transactions, tinpot (and not-so-tinpot) dictators, actual warlords, subverting or bending national policy for personal advantage, and everywhere a vast ocean of money seeking its level. One major character served for 8 years as the President of the United States; the other major character ran for the same office (and lost), served for four years as US Secretary of State, and is now running for President of the United States again. And, oh, they're married to each other and — after claiming to be "dead broke" when they left the White House 15 years ago — are now worth somewhere on the order of $50 million.
As I said, over the top. Except this is real life, and that second character really is running to be elected President next year.
The book is meticulously documented by Schweizer, with 57 pages of small-print endnotes. I found myself wanting to make a spreadsheet of the dates and events (and may yet do so), because as you read this, you realize time and again that this is not coincidence. The timing is too tight, and the patterns repeat over and over again. The overarching pattern is this:
Country X or Corporation Y needs something and faces a roadblock. In some cases, that roadblock actually is the same as a previously stated position of either Bill or Hillary.
X or Y makes a large donation indirectly to one of the Clinton campaigns or directly to the Clinton Foundation, or pays Bill a very large sum for one or more talks.
The roadblock vanishes.
We're not talking one or two ambiguous instances. We're talking about repeated instances, often involving unsavory foreign rulers or businessmen, where the quid pro quo fairly leaps off the page. Here are some of them — but I won't go into too many details, since I think Schweizer deserves to have you buy his book and read his research.
Item: In 2005, Bill Clinton schmoozes the dictator of Kazakhstan, Nursultan Nazarbayev, ostensibly as part of an AIDS/HIV campaign (though the infection rate there is between 0.1 and 0.3%), and brings along his close Canadian friend, Frank Giustra. Clinton even proposes publicly at a press conference that Kazakhstan — a nation very short on human rights under Nazarbayev — should head up the Organization for Security and Cooperation in Europe (OSCE) — a human rights organization.  Just 48 hours after Clinton and Giustra leave Kazakhstan, the brand-new "mining company" UrAsia Energy — really just a shell firm owned by Giustra — secures rights to uranium mines in Kazakhstan, beating out several established firms. Shortly thereafter, Giustra donates $30+ million to the Clinton Foundation, the first tranche of what will be over $100 million in donations from Giustra.
Item: UrAsia Energy would eventually be wholly acquired by Uranium One, which itself would be wholly acquired by the Russian government. The New York Times and other media outlets have covered this story, but the details in the book — including donations to the Clinton Foundation from an obscure Canadian 'foundation' that may be a Russian front, as well as Bill giving an hour-long talk in Moscow and being paid $500,000 by "RenCap", a firm run by former high-ranking Kremlin intelligence officials, and then having a private meeting with Putin, all at a time when Hillary as SecState is in a position to block the initial Russian investment in UraniumOne (but does not) — are even more gob smacking.
Item: Some Indian-American donations came to the Clintons as early as 1992. But India-related donations — from foreign nationals as well as Indian-Americans — really stepped up in 2006, when Congress started considering a bill to relax nuclear non-proliferation restrictions on India. Bill as President and Hillary as a US Senator had both taken strong stances in favor of nuclear non-proliferation; the bill bounced around Congress, but in 2008 — after losing the nomination — Hillary worked to pass this bill, "despite the public opposition of her closest advisors and the fact that it was a clear reversal of her previous policy positions." (p. 74).
Item: The Clintons have used both the Clinton Foundation — and while Hillary was SecState, the US State Department — as a full-employment jobs projects for both long-time Clinton advisors and aides, as well as wealthy donors. We hear a lot about Huma Abedin, but there were other Clinton-ally "special government employees" (SGEs) who also drew a Government paycheck from State while keeping their outside jobs. Yet others worked as "S-class" State Department employees, "positions [that] were under the direct purview and financial control of the secretary of state and no one else." (p. 100)
Item: TD Bank, a "Canadian financial institution", had never paid Bill Clinton for a speech in the first 8 years after he left office. But TD Bank was the single largest shareholder in the Keystone XL pipeline — which would require, among other things, a permit of approval from the State Department. So in late 2008, as Hillary's name was bandied about for SecState, TD Bank suddenly decided that it wanted to pay Bill to hear him speak; Bill's first such speech came just four days after Hillary's formal nomination as SecState. Over the next few years, TD Bank would end up paying more money for Bill Clinton speeches — just under $2 million — than any other organization has, before or since, all while Hillary was SecState. These paid speeches continued up through May 2011; in November 2011, Obama punted Keystone consideration until after the 2012 election, which effectively removed Hillary from involvement. TD Bank has not paid Bill for a single speech since then.
And so on. And I've left a lot of the best for your own reading: The Democratic Republic of Congo; Ethiopia; Nigeria; Sudan; Columbia (which involved — again! — Frank Giustra and a brand-new company); Haiti (this story is a lot uglier than the media makes it out to be); and so on.
At the end of his book, Schweizer says the following:
The Clintons are perhaps the most politically sophisticated public figures of their generation. They know how things work in the corridors of power and around the world; they know that foreign governments are trying to influence American foreign policy; and they know that bribery is rampant around the world. They have numerous avenues for making money. Some of those avenues might not be as lucrative as giving a $700,000 speech in Nigeria, but they would be much cleaner. (p. 183)
This book is important to read because these are the people seeking to re-occupy the White House for the next 4 to 8 years. And the record that Schweizer has been able to put together makes it abundantly clear they should not. ..bruce..
Category: 2016 Election, Clinton E-mails, Clinton Foundation, Obama Administration, Politics
Webster is Principal and Founder at Bruce F. Webster & Associates, as well as an Adjunct Professor of Computer Science at Brigham Young University. He works with organizations to help them with troubled or failed information technology (IT) projects. He has also worked in several dozen legal cases as a consultant and as a testifying expert, both in the United States and Japan. He can be reached at bwebster@bfwa.com, or you can follow him on Twitter as @bfwebster.