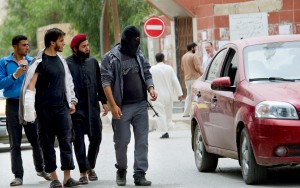 I remain distressed at the general ignorance of history, political science, philosophy, religion, and social anthropology among those seeking to analyze — and, usually, dismiss — the very serious threat posed by ISIS and related movements. That's why it's so refreshing to read an article like this one by Scott Atran over at Aeon. His article is entitled "ISIS is a revolution", and here are his opening paragraphs (the article is quite lengthy):
As pundits and politicians stoked the recent shootings in California into an existential threat; as French troops were deployed in Paris; as Belgian police locked down Brussels, and US and Russian planes intensified air attacks in Syria following yet another slaughter perpetrated in the name of the so-called Islamic State, it was easy to lose sight of a central fact. Amid the bullets, bombs and bluster, we are not only failing to stop the spread of radical Islam, but our efforts often appear to contribute to it.

What accounts for the failure of 'The War on Terror' and associated efforts to counter the spread of violent extremism? The failure starts with reacting in anger and revenge, engendering more savagery without stopping to grasp the revolutionary character of radical Arab Sunni revivalism. This revival is a dynamic, countercultural movement of world-historic proportions spearheaded by ISIS, (the Islamic State of Iraq and Syria, also known as ISIL, or the Islamic State of Iraq and the Levant). In less than two years, it has created a dominion over hundreds of thousands of square kilometres and millions of people. And it possesses the largest and most diverse volunteer fighting force since the Second World War.

What the United Nations community regards as senseless acts of horrific violence are to ISIS's acolytes part of an exalted campaign of purification through sacrificial killing and self-immolation: Know that Paradise lies under the shade of swords, says a hadith, or saying of the Prophet; this one comes from the Sahih al-Bukhari, a collection of the Prophet's sayings considered second only to the Qu'ran in authenticity and is now a motto of ISIS fighters.

This is the purposeful plan of violence that Abu Bakr al-Baghdadi, the Islamic State's self-anointed Caliph, outlined in his call for 'volcanoes of jihad': to create a globe-spanning jihadi archipelago that will eventually unite to destroy the present world and create a new-old world of universal justice and peace under the Prophet's banner. A key tactic in this strategy is to inspire sympathisers abroad to violence: do what you can, with whatever you have, wherever you are, whenever possible.
Read the whole thing. It really is important.  ..bruce..
Category: 2016 Election, Geopolitics, Main, Obama Administration, Politics, Religion
Webster is Principal and Founder at Bruce F. Webster & Associates, as well as an Adjunct Professor of Computer Science at Brigham Young University. He works with organizations to help them with troubled or failed information technology (IT) projects. He has also worked in several dozen legal cases as a consultant and as a testifying expert, both in the United States and Japan. He can be reached at bwebster@bfwa.com, or you can follow him on Twitter as @bfwebster.