Last year marked the start of the housing downturn in several markets. The clearest indicator was the ballooning levels of existing home inventory for sale, and the fact that these homes largely stayed on the market until Thanksgiving without moving in an appreciable way. In some markets, at the sales flow rate at the time, there was upwards of a 10 month supply of inventory in the market looking for a buyer.
For those of us watching the real estate market, all eyes were on the MLS inventory leading into the spring selling season. Currently the inventory levels nation wide stand at:
Single Family: 1,673,425 (+64,191)
Multi Family: 107,960 (+4,546)
Condo: 475,781 (+28,981)
Land: 481,599 (+9,983)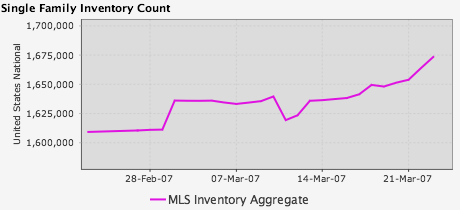 The numbers in the parentheses are the amount of inventory added in the last month. It is normal for more homes to come on the market at the start of spring (on this day alone, nearly 13,000 single family homes were added), the question is will the sellers show up to buy.
Pro-Buying Factors
There is a lot of inventory to choose from
Prices have come down from their highs in 2005

Anti-Buying Factors
Prices are still ridiculously high
Prices are likely to drop more over the next few years (and buyers know it)
Funding is tougher to get unless you have good credit and 10% – 20% to put down

We will be watching this as it unfolds, as always you can watch the markets on Hardtack
Category: Economics, Information Technology, Mashups, Recession Watch
Bruce Henderson is a former Marine who focuses custom data mining and visualization technologies on the economy and other disasters.