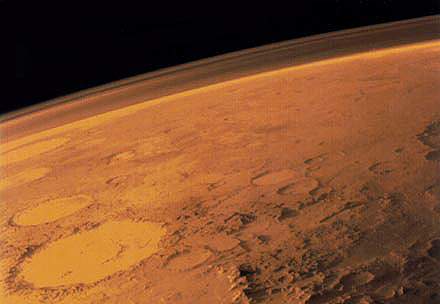 No, not on Earth – on Mars. A growing number of people are raising a stink about global warming, claiming that mankind is causing the world we all share to heat, by some claims, to a point that will cause a climatic catastrophe.
Now a bit of a hint from Mars:
Mars, too, appears to be enjoying more mild and balmy temperatures.

In 2005 data from NASA's Mars Global Surveyor and Odyssey missions revealed that the carbon dioxide "ice caps" near Mars's south pole had been diminishing for three summers in a row.

Habibullo Abdussamatov, head of the St. Petersburg's Pulkovo Astronomical Observatory in Russia, says the Mars data is evidence that the current global warming on Earth is being caused by changes in the sun.
Full text on line here
I would like to send a personal, Nelson style mocking laugh to anyone who claimed money spent on the Space Program was a waste.
Category: Climate Change, Geopolitics, Main, Science, Space
Bruce Henderson is a former Marine who focuses custom data mining and visualization technologies on the economy and other disasters.