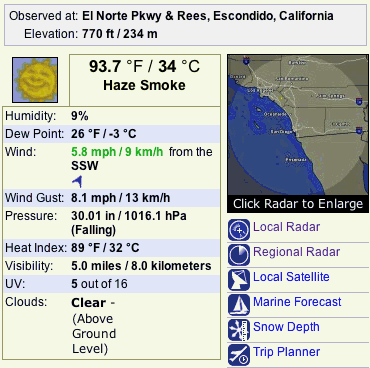 Very briefly I would like to confirm that my early prediction and hope has come to pass. As I was outside talking to my neighbors on how we had likely dodged a bullet, the moist air from the ocean began to blow across Escondido.
What this means is humidity levels are on the way up, and the Santa Ana – which was the engine for these fires – is done. I for one am looking forward to the smoke blowing out of here and getting back to cooler temperatures. In addition the long range weather models at this time show no likelihood of another Santa Ana any time in the next couple of weeks.
However the fire crews must be especially careful as the fire is driven by the wind, and the direction has just reversed. There are literally thousands of people on the fire lines working to get these blazes under control and shunted away from structures, livestock and people.

Category: Main, SAN DIEGO EMERGENCIES, San Diego Fires
Bruce Henderson is a former Marine who focuses custom data mining and visualization technologies on the economy and other disasters.