Again from the same IR source that was used for the Poomacha images. These IR images also display some of the banding artifacts that were seen on the Poomacha images, it is an artifact of the IR sensor.
IR at 21:19 Wednesday Oct 24 – Lyon's Peak Looking North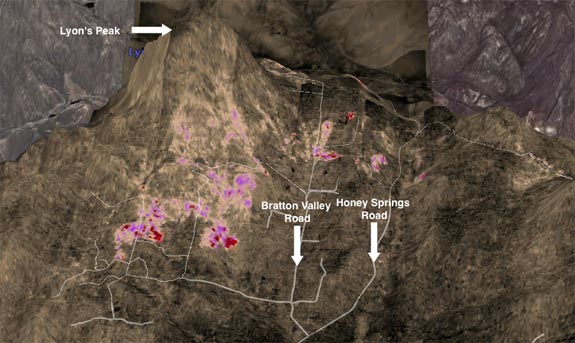 You can clearly see the hot areas of the Harris Fire burning on the flanks of Lyon's peak, threatening homes off of Bratton Valley Road and Honey Springs Road.
IR at 21:19 Wednesday Oct 24 – Lyon's Peak Looking South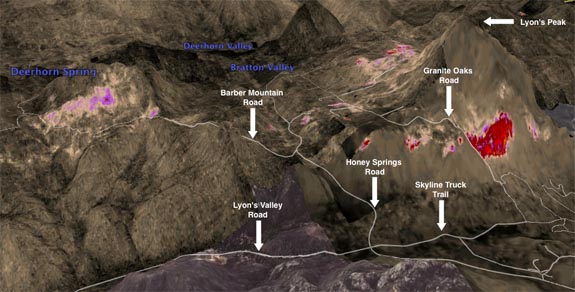 This is a wide shot looking south towards the Mexican border. The fire is burning intensely to the West of Granite Oaks Road and moving down the North face of the peak. There is also a large burn area to the East that is threatening homes in Deerhorn Springs.
So far, the focus on Day Five of the 2007 firestorm is on the Harris fire, one of four blazes still out of control in San Diego County, said county spokesman Bill Polick. Together, the five fires — Witch Creek, Harris, Poomacha, Horno and Rice Canyon — have burned 319,500 acres, an area equal to almost 500 square miles. With onshore winds down and the weather cooler, none of the four fires are moving rapidly and no new evacuations have been ordered, but firefighters are keeping a close eye on the Harris fire in the Lyons Peak area, especially along Lyons Valley Road, Polick said.
Category: Main, Maps, SAN DIEGO EMERGENCIES, San Diego Fires, Visualizations
Bruce Henderson is a former Marine who focuses custom data mining and visualization technologies on the economy and other disasters.