Last week I commented on how courage, heroism and American self-reliance was on full display last week as the area faced its most wide-spread disaster in at least a generation. As the weeks go forward we are going to read dozens of stories about people who saw a chance to make a difference and did it regardless of the cost to themselves.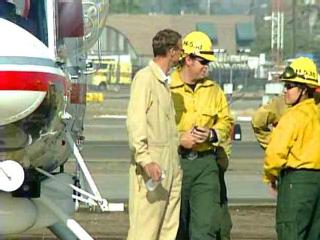 From the AP via the Houston Chronicle:
---
A shrill voice pierced Ray Chaney's headset as he flew a small plane about a mile above the U.S.-Mexico border on Oct. 21. The air traffic controller looked helplessly at the sea of flames below. Chaney, a battalion chief for the California Department of Forestry and Fire Protection and coordinator of the aerial assault on the fire, called off incoming tankers loaded with retardant. He directed water-dumping helicopters to circle in low to try to spot the victims.
"'We're burned over! We have a casualty and burns, we need help!'" Chaney recalled hearing. Three of the firefighters huddling together in the inferno gave him enough information to direct the helicopters. The fourth firefighter had disappeared, and the others feared he was dead.
The first to spot the victims was Michael Wagstaff, a contract pilot flying a helicopter tanker for the U.S. Forest Service.
What happened next, according to firefighters who witnessed it, was one of the most heroic acts in a week of many.
Wagstaff landed on a smoldering patch of scorched ground long enough for the firefighters and the son to pile on board. The father had died in the flames. Chaney, flying above, put out a call for medical help.
"They are heroes," said Ruben Grijalva, chief of the department. "I have heard about the pilot and that it was a heroic effort. I'm sure there are going to be a lot of Medals of Valor that come out of this incident."

---
I would be very interested to hear if Mr. Wagstaff was a formerly a military pilot. He is undoubtedly a hero, and acted bravely to rescue people when seconds mattered.
More from the San Diego Union Tribune:
---
SAN DIEGO – Mike Wagstaff flew his helicopter into blinding smoke to look for four firefighters and a teenage boy who were badly burned. Eventually, Wagstaff would rescue the entire crew and the boy, whose father was killed in the fire. But he said he doesn't feel like a hero.
"Not really. No," Wagstaff said in an interview Tuesday. "A lot of people do, and I'm grateful to that. But I was just doing my job."
In his first public interview, Wagstaff, 48, shared his story while standing before his helicopter at Gillespie Field in El Cajon. He wore sunglasses and a tan pilot jumpsuit.

---
See the video here.
Category: Main, SAN DIEGO EMERGENCIES, San Diego Fires
Bruce Henderson is a former Marine who focuses custom data mining and visualization technologies on the economy and other disasters.