I have mentioned that on Monday the fire burned through the basin area between Rancho Bernardo and Escondido that holds Lake Hodges. With the winds blowing about 40 MPH, this area created a natural funnel and path for the fire to follow, and can largely explain the massive devastation of homes on either side of the lake.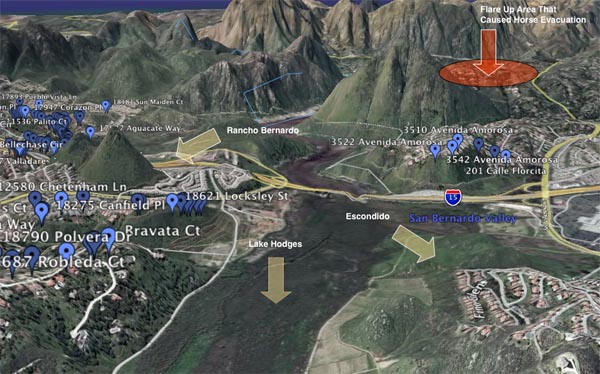 Using Google Earth, this graphic displays the terrain around the area, along with the markers for the houses we know have been lost.
Using the KPBS overlay set, and viewing North East from above Rob's house in Encinitas, we get a much different view of the Witch Creek Fire and it's path towards the sea through Rancho Santa Fe.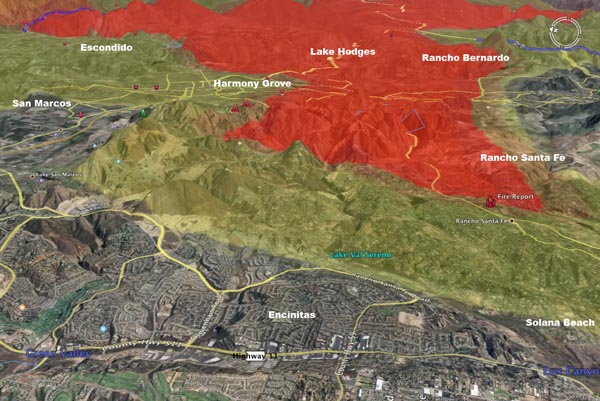 The fire boundary is several hours old, and we are not entirely sure where the western front of this fire is. We are hoping for an update in the next few hours. Clearly visible on this image is the path that the wind driven fire took down the canyons from Ramona down towards Del Mar.
Category: Main, Maps, SAN DIEGO EMERGENCIES, San Diego Fires, Visualizations
Bruce Henderson is a former Marine who focuses custom data mining and visualization technologies on the economy and other disasters.