We have some updated IR data and visualizations of the Poomacha fire burning around Palomar Mountain. First some information from the SD Union Tribune:
The Poomacha fire, which has been burning parallel to the Witch Creek fire across North County, has containment lines around almost half of its 43,000 acres. It has merged again with the Witch Creek at its northern and southern flanks, and flames have crested Palomar Mountain. Full containment is expected by Monday; no ETA yet on control. About 2,000 homes in the vicinity remain threatened. The fire currently is burning toward Lake Henshaw and Sunshine Summit. Areas still of concern include Rincon and Valley Center, Hidden Meadows and Pauma Valley. Residents of those areas need to monitor fire conditions and information closely.
Below is data from Pacific Southwest Research Station overlaid onto Google Earth. Markups and annotations are mine.
Poomacha Pauma Reservation Area – Oct 26 2000 PDT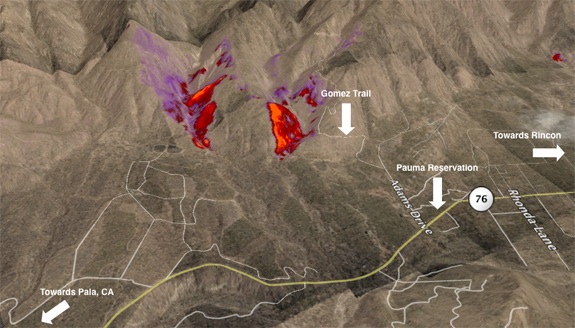 This view is looking east at the lower shoulders of Mount Palomar's north side. You can clearly see a very hot area of the fire threatening the Pauma reservation area. The fire is burning through the canyons near Gomez Trail.
Poomacha Palomar Summit Area – Oct 26 2000 PDT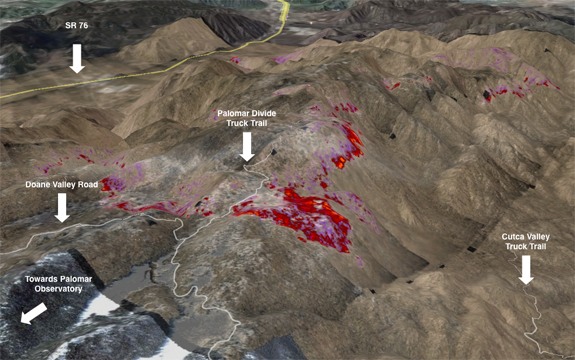 This view is looking at the summit and north west. The fire is now burning up to Doane Valley Road and is still hugging Palomar Divide Truck Trail. The burn is closer to the Palomar Observatory, but is still a safe distance away.
Poomacha South / La Jolla Amago Area – Oct 26 2000 PDT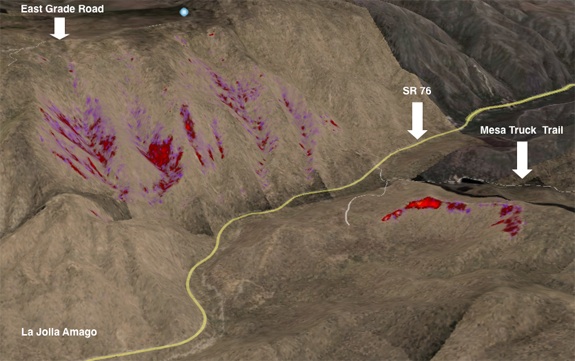 The south end of the Poomacha fire is burning in the canyons on the flanks of Mount Palomar near Highway 76. This view is looking South East.
According to news site, the majority of aircraft fighting fires in San Diego county are now tasked to the Poomacha Fire, this includes 1 helitanker, 11 fixed-wing tankers and 13 helicopters.
Category: Main, SAN DIEGO EMERGENCIES, San Diego Fires, Visualizations
Bruce Henderson is a former Marine who focuses custom data mining and visualization technologies on the economy and other disasters.