In an article in the Union Tribune, a new land use strategy has appeared to work. This is the "Shelter In Place" approach. From the article: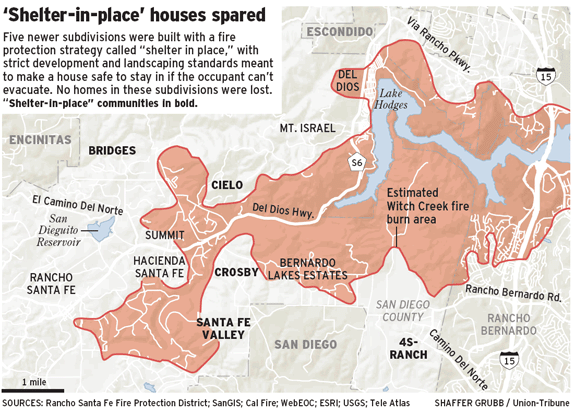 Click graphic for larger view
A disputed land-use strategy designed to protect new developments from devastation in the county's exurban, fire-prone areas appears to have passed its first and most critical test this week. As the Witch Creek fire raced through some of San Diego County's priciest neighborhoods and crept to the edge of others north and east of Rancho Santa Fe, not a single home in the five subdivisions that have implemented the strategy was lost, fire authorities said.
The communities, which together cover hundreds of acres, are The Bridges, The Crosby, Cielo, Santa Fe Valley and 4S Ranch.
Officials with the Rancho Santa Fe Fire Protection District credit the lack of property damage to a defensive program called "shelter in place." It is a wildfire protection plan that imposes construction and landscaping standards intended to be so stringent – including mandatory interior fire sprinklers and broad swaths of protective landscaping – that homeowners can remain sheltered in their houses if they cannot evacuate.

I know that several of our readers have been keenly interested in this area and in how these houses fared. This includes neighborhoods such as The Bridges, The Crosby, Cielo, Santa Fe Valley and 4S Ranch that are still closed to access to the people who live there.
To be honest, by the time the Witch Creek Fire had reached this location it was not as intense as when it passed through Rancho Bernardo, so a full test has yet to take place. Given the scale of the loss in San Diego, this is great news that perhaps there are ways the growing Exurbs can be built to withstand a burn.
Posted 07:00
Category: Main, Maps, SAN DIEGO EMERGENCIES, San Diego Fires
Bruce Henderson is a former Marine who focuses custom data mining and visualization technologies on the economy and other disasters.