A collection of interesting news on the San Diego fires from our local media:
Witch Creek fire fierce from start

Bill Tulloch is a tough old cattle rancher. Even at 82, he thought he had a chance to stop the fire that was brewing on the northeast side of his property around noon on Sunday. Tulloch believes what he saw that day on his cattle ranch near Santa Ysabel was the birth of the Witch Creek fire. So far it has charred nearly 200,000 acres, killed at least two people and destroyed more than 1,000 homes.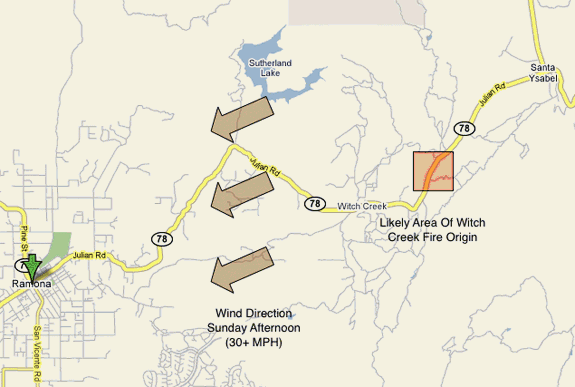 Officials laud high-speed alert system

SAN DIEGO —- As hundreds of thousands of people started safely returning to their evacuated communities Thursday, officials continued to praise the high-speed telephone alert systems that helped spur residents to flee oncoming fires.
"We moved about 513,000 people," said Harold Tuck, general manager of the county of San Diego's public safety group. "That's more than the population of New Orleans at the time of (Hurricane) Katrina. We evacuated hundreds of thousands of people —- without anybody getting hurt."
County spokeswoman Holly Crawford said that since Sunday, officials sent 357,851 prerecorded evacuation "land line" calls to households in the county and affected cities using the county's two high-speed alert systems: Reverse 911 and "Alert San Diego."
It's being called the "Reverse 911 System" locally, and it is really quite a valuable tool. It takes a given geographic area and calls every telephone known in that area and plays a pre-recorded message. This allows officials to spread important directives, like mass evacuations, very easily to a huge number of people.
Palomar Observatory No Longer Threatened

The Poomacha fire is no longer threatening any populated areas of Palomar Mountain, fire officials said Friday morning. The fire is still active, but it is to the west of the historic Palomar Observatory in a rugged wilderness area that is inaccessible to firefighters. Pat Bailey, an incident commander with Cal Fire, said the fire is burning into parts of the Pauma Indian Reservation and moving north toward the Agua Tibia wilderness area.
The actual dome housing the 58-year-old 200-inch telescope is fairly immune to fire. It's constructed of concrete and steel and actually serves as a refuge site in fire emergencies. Staff and residents at the observatory and nearby community, however, were evacuated Tuesday to other sites where facilities and provisions were better.
Category: Main, Maps, SAN DIEGO EMERGENCIES, San Diego Fires
Bruce Henderson is a former Marine who focuses custom data mining and visualization technologies on the economy and other disasters.