Reports around the county are that most areas evacuated are starting to let resident back home. This is great news and is an important step to getting people and the community settled down and back to normal. Two exceptions to this are Rancho Santa Fe and Ramona.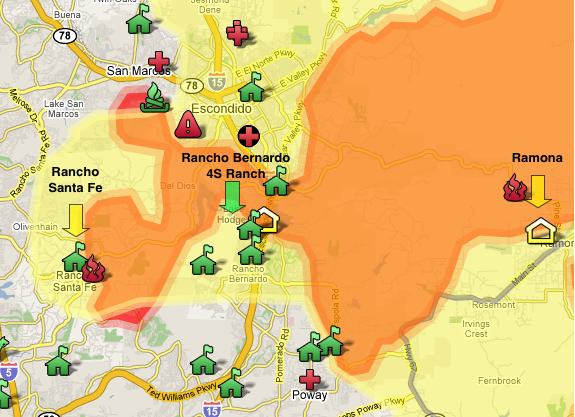 Excerpts from local news sources follow:
Several residents in the Rancho Santa Fe area were angered this morning when they were not allowed to return to their neighborhoods after fire officials told them it was safe.

Photos from Jim the Realtor's web site show the scene at Rancho Santa Fe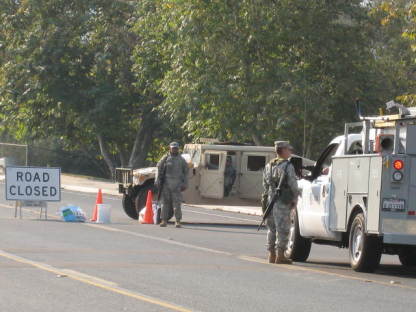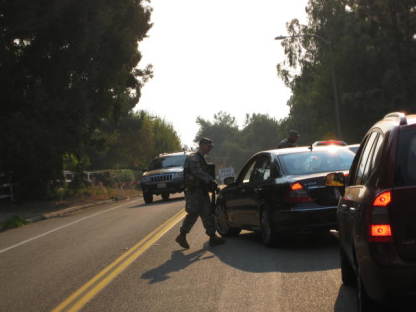 Meanwhile reports on KFMB AM are that multiple residents have heard that they would be able to get back to their homes in Ramona, but have been turned back by police due to dangerous conditions with downed power lines.
Ramona is still virtually closed to anyone trying to enter, with California National Guard troops manning a checkpoint at Highway 67 and Poway Road. About 80 cars full of people are waiting to be allowed into Ramona. Crews are working to clear hazardous road conditions and that has delayed reentry.

There have even been reports of some residents attempting to run the barricade. It has been 5 days since this all began and these people are probably stressed to their limits. Hopefully they will be able to get back home soon.
Last but not least people are being allowed back in fire damaged areas of Rancho Bernardo to survey the damage or return to their homes
All residential areas of the city of San Diego are now open and available for residents to return. The only exception is one fire-damaged Rancho Bernardo condominium complex, city officials said.
Areas of north Rancho Bernardo on the east side of Interstate 15, north of Paseo Del Verano Norte and the community of Westwood are now open for access to residents only, officials said.
In addition, access to the San Pasqual Valley is still limited by ongoing road closures near the intersection of San Pasqual Valley Road and Old Milky Way.
The County of San Diego has lifted the evacuation order its portion of 4S Ranch. All of 4S Ranch is now re-opened to residents.

Posted 1315 PDT
Late word from Jim the Realtor – It sounds like RSF is open now to residents, except on the streets that got burned

Updated 1430 PDT
Category: Main, Maps, SAN DIEGO EMERGENCIES, San Diego Fires
Bruce Henderson is a former Marine who focuses custom data mining and visualization technologies on the economy and other disasters.