Collected reports from Reuters and SD Union Tribune:
Wildfires threatened to shut down the last remaining major power transmission link to San Diego, which would make the Californian county an electricity "island", susceptible to major blackouts, the manager of the state power grid said Wednesday.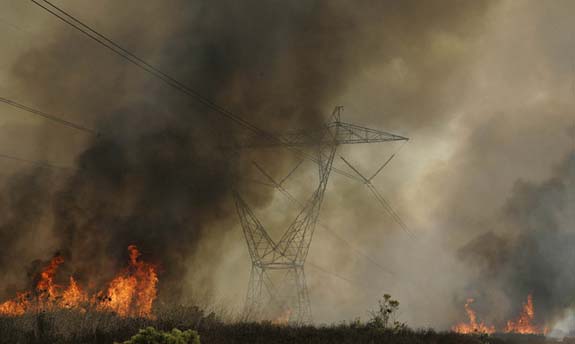 Photo credit SD Union Tribune
If it is cut off from external electricity supplies, San Diego County would have to rely only on the power its own plants can generate, which would greatly increase the chance of major blackouts, said officials from the California Independent System Operator.
SDG&E has two major links to the rest of the U.S. Western power grid, one to the east and Arizona that has been shut since Sunday and one that connects with the grid to the north of San Diego County. That second line is in peril, said McCorkle.
The link to Arizona, the 500-kilovolt Southwest Powerlink, and 138-KV and 230-KV lines in the SDG&E system have already cut power supplies to the point that if San Diegans don't watch their energy use, a serious emergency could occur, McCorkle said, even without the shutdown of the remaining link to the Western grid.
The area's power plants have been able to fill the breach left by the loss of imported electricity, which typically meets about 50 percent of local demand at this time of year. Nearly all imports have been lost because of transmission line outages.
"Every local generator capable of providing electricity is doing so," said Michael Niggli, chief operating officer of SDG&E. "And we have absolutely needed it."
Posted 12:15
Category: Main, SAN DIEGO EMERGENCIES
Bruce Henderson is a former Marine who focuses custom data mining and visualization technologies on the economy and other disasters.