Horse evacuation from the previous "safe spot" is now underway. There were several hundred horses at this location and adjacent. It was north of Mt. Israel road and the Elfin Forrest area on the North side of Lake Hodges. As reported earlier a offshoot that was part of the Witch Creek Fire began advancing early this morning.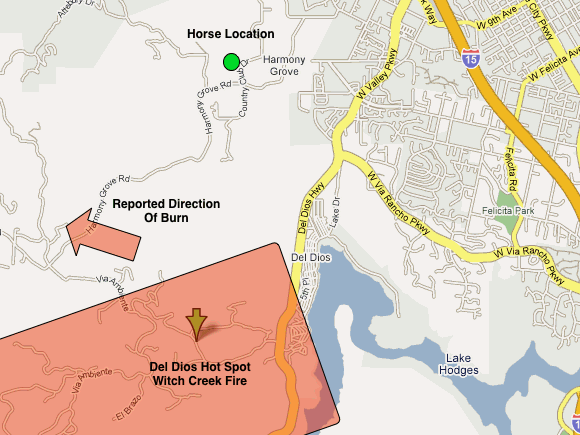 The scene is quite chaotic where you have dozens of horse hauling rigs all trying to get in, load up and get out before the fire can get any closer to the paddocks. These people don't make the papers or the TV news, but the dedication and heroism shown to protect these animals is quite inspiring, and this is coming from a cheesy old Jar Head.
Apparently the decision has been made to take the horses close to Bonsall, which is near the Rice Canyon burn / evacuation area. But as mentioned before, there are fewer and fewer places to stash these horses away from the fires.
Category: Main, Maps, SAN DIEGO EMERGENCIES, San Diego Fires
Bruce Henderson is a former Marine who focuses custom data mining and visualization technologies on the economy and other disasters.