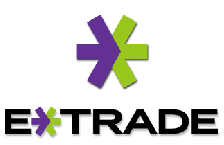 Word today that investment company E-Trade is feeling the effects of toxic mortgage and credit portfolio. E-Trade has almost $500 Million exposure to mortgages and other credit investments, known as CDOs.
From Market Watch:
Shares of E-Trade Financial Corp. lost more than half their value Monday after the company said it faced more subprime-related write-downs and as one analyst suggested the firm might have to file for bankruptcy protection.

Also late Friday, E-Trade revealed that it's the target of an informal Securities and Exchange Commission inquiry regarding its loan and security portfolios.

E-Trade said the fair value of its $3 billion asset-backed securities, or ABS, portfolio has continued to decline since the end of the third quarter. Collateralized debt obligations, or CDOs, and other securities backed by second-lien mortgages saw the biggest hits, the broker explained.
To sum this up – E-Trade has some bad investment paper. So much in fact that they are now worried that their obligations might be larger than the amount of money they can bring together into one place.
The credit markets continue to un-ravel, and it is only a matter of time before we seem brand names implode or take a serious hit as a result of all of the loose money over the past 4 years.
When the US Federal Reserve cuts interest rates almost a full percentage point when the stock market is close to its all time highs, they are telling us that they are worried the pillars of our economy are on shaky ground. Watch for more stories like this in the next few months.
[Update 12:20 Pacific – BRH]

Additional analysis over on ClearAM Ideas
Where they write:
---
Come clean. Take your write downs and move forward in an honest, transparent, long-term shareholder friendly manor. What happens to firms who lack transparency and realistic views of their use of balance sheet.

---
I totally agree. The operative game plan for so many aspects of the financial sector for the past year or two has been to kick the can down the road and bet that conditions will improve "Real Soon Now".
Over at Minyanville, the godly Kevin Depew writes in his Five Things (part of my daily required reading):
2. E*Trade Fighting for Survival

Also after closing time on Friday, E*Trade (ETFC) reported still more write-downs… and an informal SEC inquiry.

Today the shares of ETFC are down more than 50% as talk of bankruptcy begins to swirl.
Rating cuts on $208 million of asset-backed securities last month spurred a bigger-than-expected reduction in their value, E*Trade said in a regulatory filing after the close of official trading on Friday.
Citigroup Inc. analyst Prashant Bhatia, in a report titled, "Bankruptcy Risk Cannot be Ruled Out," wrote that "the extent of poor risk management in our view, has put the viability of the franchise at risk."

What is stunning is the speed with which E*Trade has reached this point.
The company reported its first quarterly loss in five years just last month.
As of the end of June, E*Trade had 4.7 million brokerage and banking accounts.
A good question raised elsewhere is: Is Citi taking an easy pot-shot at a fierce competitor? In the past 6 months all manner or ratings groups and "expert" analysis as been called into question for putting their own interest ahead of the greater good. Time should tell us if E-Trade is in trouble or just suffering a bit of a rough patch with an added helping of negative press courtesy of Citi.
[Update 13:00 Pacific – BRH]

Additional good information courtesy of Sean-Paul Kelley at the Agonist:
Are E-Trade's Troubles indicative of just how pervasive and nasty the influnce of mortgages write-downs will prove to be?

What surprises me is the simple fact that E-Trade has any exposure to this mess. Why? What was E-Trade doing in this business? A line of business it really had no expertise for? The only reason I can see E-Trade entering this business is that it was easy, lucrative and seductive. Read: greed! Clearly their risk-management operations failed them. 70% of the firm's assets are in mortgage related securities!?! WTF mate?

What happens when the company goes kaput? A lot of people are going to loose money–people who believe the SIPC is going to take care of them, much like people believe the FDIC will too. If you know anything about the SPIC then you know they'll do everything they can to not pay.
Category: Credit Backlash, Economics, Main, Recession Watch
Bruce Henderson is a former Marine who focuses custom data mining and visualization technologies on the economy and other disasters.