Following the assassination of former Prime Minister Bhutto yesterday, Pakistan has seen several large cities erupt in violence. Many of the protests have been peaceful but quite a few have turned violent, with rioters focusing on burning property and destroying anything they can. A summary map of the most active cities below: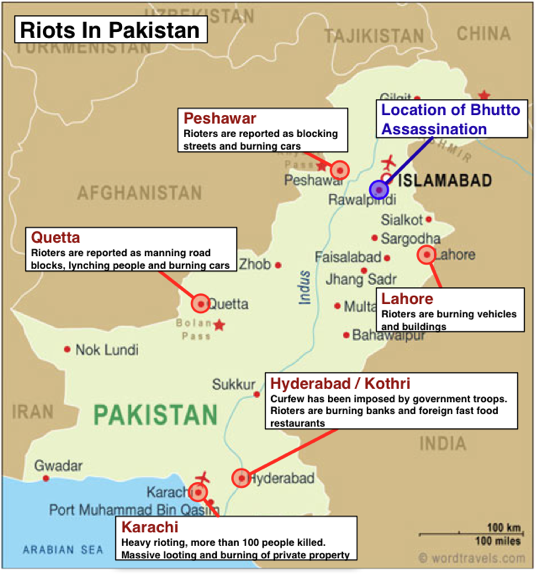 Far and away the most violence is reported in the city of Karachi, where police and paramilitary troops are on the streets attempting to enforce a curfew. Rioters have in fact been attacking police in large bands, and have been setting some police stations on fire. Hundreds of vehicles are burning, businesses being looted and torched, and general mayhem is the order of the day.
Al Qaeda must be pleased. At this moment Pakistan and its security forces are focused inward, working hard to quell the violence and rioting. This leaves them open to move people more freely in the NorthWest territories.
As time goes on I am more certain that a direct link to Al Qaeda will be proven, and we will see evidence that there were multiple attackers. In other words a traditional coordinated attack against Mrs. Bhutto. This is further evidenced by the fact that another opposition candidate was nearly killed that same day by a second team that failed.
We hope and pray that Pakistan can gain control of itself before they further trash their own country.
I have heard a lot of talk about "securing the nukes" in Pakistan from news presenters. This makes me laugh a bit, as they seem to assume that they are sitting around in a warehouse somewhere in Karachi with a couple of fat drunken guards keeping the rioters out. Suffice to say that the United States and other western countries have been working with Pakistan since 2001 to beef up their nuclear security, and implement safe guards. These safe guards help ensure that even should some one get a hold of a weapon, the would not be able to arm or fire it off.
Category: Geopolitics, Information Technology, Main, Maps, Military
Bruce Henderson is a former Marine who focuses custom data mining and visualization technologies on the economy and other disasters.