As most of the readers here know, my team has been working with new technology to extract, refine and exploit information that is all around us. We have named that technology Boomerang and one example of it is an application called Hardtack.
We are approaching the 1 year anniversary of full scale data gathering with Hardtack, and it is interesting to note what the data is describing to us. Today we are looking at information taken from the Real Estate MLS systems describing the asking price, per square foot, of properties in various California cities.
All real estate sales are governed by the local real estate board, who own and control a specialized database system called the MLS, or multiple listing service. By monitoring the data flowing through these MLS systems, we are able to see what sellers are hoping to get for their property, and measure several parameters about the property for sale.
The graph below represents the percentage change in the asking price per square foot for a median single family home in each of the listed California metropolitan areas, you can click on the graph for a larger view: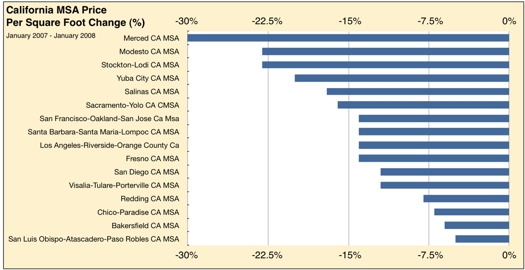 Leading the pack of decliners is Merced, changing a whopping -30% in price per square foot from a year ago. Least hardest hit is San Luis Obispo, adjusting only -5% over the past year. The full toll is as follows:
| | |
| --- | --- |
| Merced CA MSA | -30% |
| Modesto CA MSA | -23% |
| Stockton-Lodi CA MSA | -23% |
| Yuba City CA MSA | -20% |
| Salinas CA MSA | -17% |
| Sacramento-Yolo CA CMSA | -16% |
| San Francisco-Oakland-San Jose Ca Msa | -14% |
| Santa Barbara-Santa Maria-Lompoc CA MSA | -14% |
| Los Angeles-Riverside-Orange County Ca | -14% |
| Fresno CA MSA | -14% |
| San Diego CA MSA | -12% |
| Visalia-Tulare-Porterville CA MSA | -12% |
| Redding CA MSA | -8% |
| Chico-Paradise CA MSA | -7% |
| Bakersfield CA MSA | -6% |
| San Luis Obispo-Atascadero-Paso Robles CA MSA | -5% |
The natural question would be – what does this all mean? Simply put, California housing value is in a free-fall. For many years people believed that their houses were a vehicle to invest prudently for the future or to get rich quick. At this time that is no longer a likely possibility. It should be noted that in no city that we track in California is there a positive price per square foot ratio year over year.
For people who own a house in California (like I do), be prepared to wait it out a while.
Category: Economics, Main, Mashups, Recession Watch
Bruce Henderson is a former Marine who focuses custom data mining and visualization technologies on the economy and other disasters.