Today we use data from Hardtack to take a closer look at the market in Phoenix. The Phoenix metro area saw explosive growth during the housing bubble, including developments and communities built where they honestly did not make any sense. In addition many of the properties were snapped up by California "Equity Locusts" looking to flip hot properties in the Phoenix sun for a huge windfall. As a result of these factors the Phoenix market is somewhat unique. There are large sections of suburbs that are for sale, some by owners upside down in their mortgages competing with banks who are selling their foreclosures.
As a reminder about the data, all real estate sales are governed by the local real estate board, who own and control a specialized database system called the MLS, or multiple listing service. By monitoring the data flowing through these MLS systems, we are able to see what sellers are hoping to get for their property, and measure several parameters about the property for sale.
So just keep in mind, these are prices that the sellers are hoping to get, as listed out in the MLS database for the various areas around and in Sacramento.
Below is a chart showing the major cities of the Phoenix MSA, and how the price per square foot has changed over the past year (click on the chart for a larger view).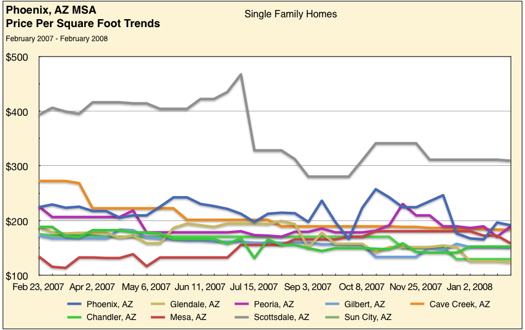 Of interest here is just how sideways the overall market seems. Some of this is because Scottsdale is skewing the numbers on the chart. Full breakdown by region after the jump.
The graphs below represents the percentage change in the asking price per square foot for a median single family home in each of the listed town in Phoenix metro area, you can click on any graph for a larger view:
Phoenix, AZ MSA – East


| | |
| --- | --- |
| City Name | List Price Change |
| Tempe, AZ | -48% |
| Chandler, AZ | -19% |
| Gilbert, AZ | -13% |
| Mesa, AZ | 17% |
These numbers had me reviewing, in detail, everything we have gathered on Phoenix for the past year. First of all, it's important to remember that we are tracking asking price only. Secondly there would seem to be some interesting things going on in the MLS as far as listing square feet, and price per square feet. Nevertheless, We have a huge -48% drop in Tempe that seems to defy imagination, and a 17% rise in Mesa which I am still trying to understand what would cause it. From the graph on at the top of this post, price per square foot in the Phoenix area is very chaotic on a monthly basis.
Phoenix, AZ MSA – North


| | |
| --- | --- |
| City Name | List Price Change |
| Cave Creek, AZ | -32% |
| Scottsdale, AZ | -21% |
| Phoenix, AZ | -15% |
| Fountain Hills, AZ | 48% |
Again we can see some massive declines and one "bizzaro" number out of Fountain Hills. Again I suspect that we are seeing some McMansions coming onto the market when there used to be shacks. In February 2007 the average price per square foot in Fountain Hills was $239, 12 months later it stands at $354.
One thing is clear, even Scottsdale is getting hammered right now as the gap between what the actual value of these homes are and what the speculators paid for them is realized, primarily by the banks that now find themselves trying to compete against each other to liquidate their bulging REO lists.
Phoenix, AZ MSA – South


| | |
| --- | --- |
| City Name | List Price Change |
| Cave Creek, AZ | -33% |
| Apache Junction, AZ | -31% |
| Casa Grande, AZ | -28% |
| Eloy, AZ | -3% |
The far southern exurbs of Pinal count are taking a huge hit. These towns are far to the south of the jobs in Phoenix, and were largely built on almost pure speculation that the boom would roll on forever, supported by baby boomer retirees and illegal aliens. Sadly all of the millions of dollars that went into building out this folly are now disappearing as they are re-priced to reality.
Phoenix, AZ MSA – West


| | |
| --- | --- |
| City Name | List Price Change |
| Glendale, AZ | -34% |
| Sun City, AZ | -26% |
| Buckeye, AZ | -22% |
| Peoria, AZ | -16% |
| Avondale, AZ | -3% |
| Goodyear, AZ | 14% |
The story is the same here, every area is taking a significant hit with the exception of Goodyear. I will remind the readers that we are tracking the asking price in the MLS, rather than the actual sale price.
Keep in mind, remember that all real estate markets are highly localized. As the data shows some areas are down a great deal more than others. Some of the strange increases may reflect sellers putting their minimum price = loan balance in the MLS competing side by side with bank owned REOs trying like mad to liquidate and aggressively cutting price to try and find what the market price actually is. If that is the case it will show up within the next 6 months as the sales cycle establishes a real market value for these homes.
These numbers are fairly close to raw, taken from MLS listings sampled weekly over the past year. Use them with caution.
Category: Economics, Main, Mashups, Recession Watch
Bruce Henderson is a former Marine who focuses custom data mining and visualization technologies on the economy and other disasters.