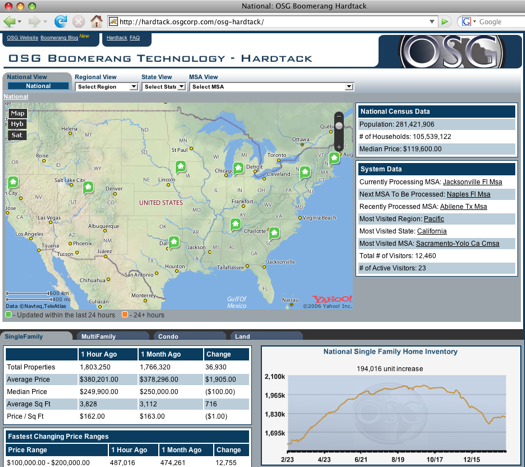 The large mortgage companies, Freddie Mac and Fannie Mae are government chartered quasi companies. They exist to enable a healthy and robust mortgage debt market, and before the age of Wall Street mortgage generation (which lead to one facet of the current debt and housing crisis) were pretty much the main source for money to buy a house.
They were so large and so dominant, they have their own regulator, called OFHEO (Office of Federal Housing Enterprise Oversight). One of the important functions of this government agency is to publish statistics on the housing market. In the past these numbers are always "seasonally adjusted" and published quarterly.
Now from Reuters:
Edward DeMarco, deputy director of the Office of Federal Housing Enterprise Oversight, told an audience of securities analysts that his organization in March would begin publishing a monthly index of home prices in an effort to better track trends.

Adding a monthly report "has actually been in the works for a while, just to make the data we report more timely," DeMarco told Reuters on the sidelines of the New York Society of Security Analysts forum.
The rise of publicly created tools such as Hardtack have slowly been pushing the OFHEO reports towards irrelevance.
Bruce Henderson is a former Marine who focuses custom data mining and visualization technologies on the economy and other disasters.