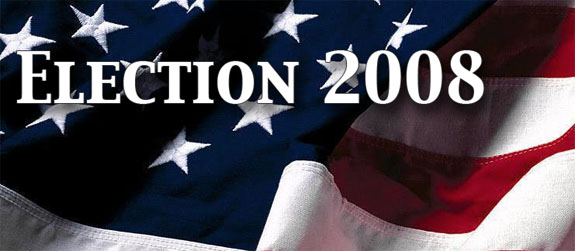 I was amazed to find this bit of data over at Time's blog:
Here are the numbers just for the 19 states where both parties had elections yesterday

Obama/Clinton voters: 14,460,149
McCain/Romney/Huckabee voters: 8,367,694

Or, 73% more Democratic voters than Republican voters.
A lot of this is huge Democratic numbers in New York and California.
From what I understand, Michael Savage talked about this yesterday in some depth on his radio program, and what he cited actually explains a few things. Namely that the conservative wing of the Republican party is at present rejecting the current set of candidates they have to choose from. As a conservative myself, I fall into that category myself. I arrived at my polling place in Escondido, CA to find that I could not vote Republican at all this year. I somehow became a Non-Partisan. Fair enough, because I really had no interest in anyone running for president this year (as readers know).
The RNC has to be mortified by this set of statistics. It clearly shows that the main power source of Republican voting, the core conservatives (small government, defense of American ideals and culture, sealing the border) are not buying what the RNC has up for sale in 2008.
With the election of Bush in 2000, and what he has done in office (except for his judicial appointments and the war on terror) will result in a long delayed shuffling of the deck. For quite some time the coalition of national security hawks, small government conservatives, capitalists and religious fundamentalists have been growing more uneasy with each other. If this year's primaries show us anything, it is that these factions were ready to fight it out anyhow. With a figure as divisive as McCain as the presumptive nominee, these fractures are going to grow.
I stand by my position that the voters this fall will complete the transition to all Democrats as a means to be "done with Bush", and it won't really matter who the Republicans run this year. In addition the new Democratic president will be handed an impossible position with regards to the economy, and will likely be a one termer.
Category: 2008 Election, Commentary, Main
Bruce Henderson is a former Marine who focuses custom data mining and visualization technologies on the economy and other disasters.