I am on the road for the beginning of this week, but I wanted to post some overview graphs of what is happening in the Sacramento housing market. As you can see there is quite a drop in the asking price per square foot listed in the MLS.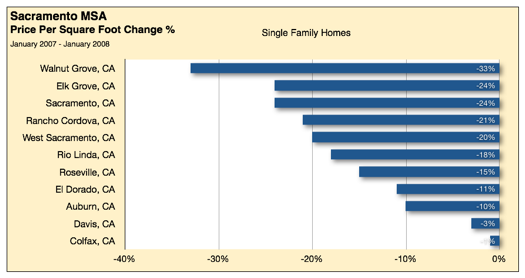 You can click the chart above for a larger view. The cities were chosen from the full data set for Sacramento, which I will work to have posted before the end of the week. As you can see the community of Sacramento itself is taking a huge hit, down 24% in asking price from a year ago, along with the bubble town of Elk Grove which has been featured in the news as a center of foreclosures.
These prices are the average cost per square foot as listed in the MLS databases for the communities in the Sacramento area. All data was gathered by the Hardtack mashup project that we have been running for past year.
| | |
| --- | --- |
| City Name | List Price Change |
| Walnut Grove, CA | -33% |
| Elk Grove, CA | -24% |
| Sacramento, CA | -24% |
| Rancho Cordova, CA | -21% |
| West Sacramento, CA | -20% |
| Rio Linda, CA | -18% |
| Roseville, CA | -15% |
| El Dorado, CA | -11% |
| Auburn, CA | -10% |
| Davis, CA | -3% |
| Colfax, CA | -1% |
A big thanks to Sacramento Land(ing) for being a significant traffic generator for Hardtack, we appreciate it!
Category: Economics, Main, Mashups, Recession Watch
Bruce Henderson is a former Marine who focuses custom data mining and visualization technologies on the economy and other disasters.