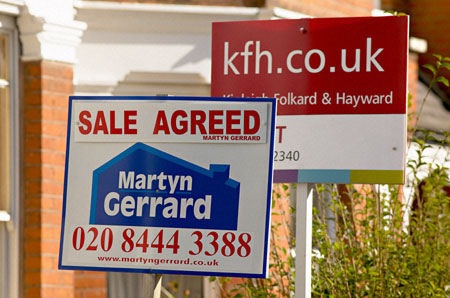 A year ago there was a great deal of disagreement on this nation's housing bubble, with the people invested long in real estate insisting that it was just "fair value" and that prices would continue ever higher, carrying those "wise" enough to get in at historically high costs to greater riches.
To keen observers, the bubble was obvious starting around 2003, and what has been surprising is how out of control it became in such wide spread areas that had very little to offer (Bakersfield California, St. George Utah, and others) other than a place to throw up a poorly made McMansion constructed with all of the illegal alien labor you could muster.
At the same time, as "leading" economists began to suspect that there might be trouble in the US driven by housing, credit and everyone who conspired to cook up the crazy finance that powered the bubble, the theory of "decoupling" was floated. Decoupling meant that even if the US slid into economic decline, the rest of the world (especially Europe!) would decouple from the plunging US, and continue to prosper.
In the past 18 months I have made two trips to the UK, and could see first hand that they are not decoupled from the USA in they way they wish they were. In fact they are on a more aggressive crash slope, though about 18 – 24 months behind us. Sadly for them, they will decline harder and faster than we have been, because they must "catch up" the the deteriorated debt markets that we have been eroding thought 2007.
Some evidence of the trouble, from the Guardian:
Panic selling shuts £2bn fund

One of Britain's biggest property funds was forced to shut its doors to withdrawals yesterday after the slump in commercial prices triggered panic selling by small investors. The move prompted fears of a Northern Rock-style run on billions of pounds invested in once high-flying funds which many savers have seen as a safe haven for their pensions.

It said the fund, invested in London office blocks and shopping centres across Britain, no longer had sufficient cash reserves to meet demands from investors wanting to withdraw their money. Its "buffer fund" was down to 1% of its total assets, instead of the usual 10-15%.
Clearly this should be a warning shot to anyone staking a future on real estate values in the UK. Sadly it seems they are following other symptoms that we displayed at the hight of our real estate bubble. From the Scotsman:
Students brave icy weather to be first in line for hot property

(Original story at the Scotsman seems to be having trouble, but the comments are here)

A group of six students spent the night in freezing conditions to be first in line when homes at the Springside development in Fountainbridge went on sale today. They were hired by Warriston home search and relocation agency Into Edinburgh to camp outside Savills on Wemyss Place and act as proxies for their clients.

City council housing leader Paul Edie today said the move reinforced how difficult it had become for first-time buyers to get on to the Capital's housing ladder. Demand for the first 58 flats, which start from £150,000, was expected to be so high that the students were told to be in position from midday yesterday.
Ah yes, the bubble days of 2005, when crazed buyers and flippers would wait in line to be allowed to buy condos for the chance to "flip" them for a fat profit at times even before construction started. Fair warning to everyone in the UK, if you want to sell any time in the next 5 years, for whatever reason, consider selling in the next 3 months. Now this little bit of sunshine via Calculated Risk:
The return of negative equity: Thousands at risk of owing more on homes than they are worth

Thousands of families are at risk of plunging into negative equity if house prices fall by even a small amount, experts warned yesterday. Those who took out huge mortgages while property prices were soaring have been left exposed by the market downturn.

Credit ratings agency Experian have drawn up a map showing which areas of the country are most at risk from a fall in prices. It found that in some parts of Britain, the average mortgage debt is more than 90 per cent of local property prices. This leaves owners vulnerable to negative equity – where the amount owed on the home is more than it is worth.

In Britain as a whole, Sighthill in Glasgow is the most high-risk postcode at 94.5 per cent. The figures in these ares are an average, suggesting that some homeowners are exposed to even higher levels of debt.
Decoupling was a hope of those who have spread money all over the globe seeking ever higher returns. Sadly the rules of the global financial systems have not changed, just a new generation of MicroMoguls have pretended that "it's different this time" and that even if the US takes a dive, places like Europe, India, China and Brazil will be "just fine". Sadly the whole world is now more tightly coupled than ever before. Financial impact in China can cause problems in Germany, and when the US is undergoing a level of credit deflation not seen since 1929, there is no place to hide.
Where this ends up is anyone's guess.
Category: Credit Backlash, Economics, Main, Recession Watch
Bruce Henderson is a former Marine who focuses custom data mining and visualization technologies on the economy and other disasters.