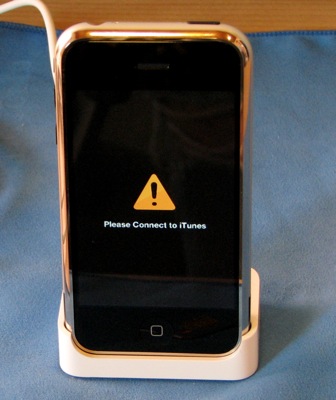 In case you did not happen to be within 3 miles of an Apple fan today, Friday July 11th was THE day, the holy day when Jobs the Magnificent would allow the faithful to purchase some really nice hardware, namely the second generation / 3G iPhone.
But, boys and girls, this is instead a lesson on how you can custom craft your mega phone for a year or so, spend millions on marketing and and commercials in all manner of media. You can crank your reality distortion field to maximum and still look like a crew of chimps who somehow got lost in your own hype and forgot to focus on the fundamentals.
Software and system testing is not sexy, it won't make the cover of Newsweek, or Wired or even the Farmers Almanac. Load and performance testing is even more arcane and neglected. Everyone just figures you can always throw more hardware at the problem and you will be fine.
This morning when iPhone 3G went on sale, Apple (in it's infinite wisdom) put a software update for the original iPhone out for distribution (through iTunes) that would give the older phones many of the same features as the new ones. They also released software for the iPod Touch (and iPhone without a phone) to do much the same. It was Christmas day for Apple gadget freaks world wide!
But as the phones went on sale at 8 AM Eastern time in the US, it became clear that trouble was brewing. As more time zones opened up and the phones went on sale, the web infrastructure that supported the sales and activation began to crumble.
What went wrong? A few things. First off Apple bowed to AT&T and insisted that everyone who bought a phone go through the activation process before they left the store. This was in part to ensure that the grey market in iPhones stopped. While it may have accomplished that, it also ensured that the real (revenue generating) market stopped too! Rather than people getting into the store, buy their phones fast and have them set up their accounts at home (in a distributed and non-time critical fashion), they created huge waits at the store, and made the whole thing hinge on how well the iTunes store could hold up.
Hold up it did not. As of 4:30 Pacific, it is still in chaos, people are left with new phones that don't work, old phones that have been turned into bricks, and iPods that are trashed.
Given that Apple was in charge of how many phones were shipped, they did know how many people were going to try and activate on the first day. It should have been possible for them to load test these features. Instead Apple now looks like fools during a very high profile event. From what I know of Steve Jobs, I am certain several people have already been reduced to radioactive slag.
Testing is not sexy, but look at what not doing the proper testing has done for Apple.
Category: Apple, Business, Engineering, Information Technology, Main, Project Management
Bruce Henderson is a former Marine who focuses custom data mining and visualization technologies on the economy and other disasters.