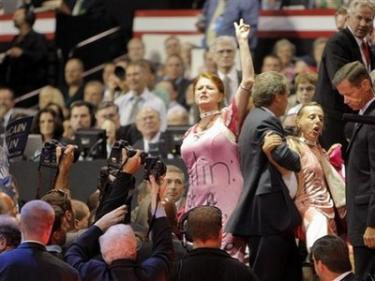 Word from SFGate that during Wednesday night's speech by Vice Presidential nominee (Gov) Sarah Palin, several members of Code Pink, the fringe / loon troupe that likes to protest Marines, attempted to storm the stage. From SFGate:
On Wednesday, CodePink did it again, as co-founders Medea Benjamin and Jodie Evans hit the floor of the Republican National Convention here, unfurling banners and getting arrested in the process.

The two protesters had official guest passes, and managed to get right up to the podium near VP candidate Sarah Palin.

Just as the Alaska Governor hit the line in her speech about hockey moms, the two women, wearing pink slips saying "Palin Not a Woman's Choice," both tried to unfurl a banner that proclaiming, "We need a Peace VP."
This raises quite a few concerns, not the least of which: how did these nuts get so close? Were the Secret Service aware of them? Sadly in this day and age, you have to wonder if someone as rabid as these people might be packing some kind of Al-Qaeda suicide vest to underscore their protest.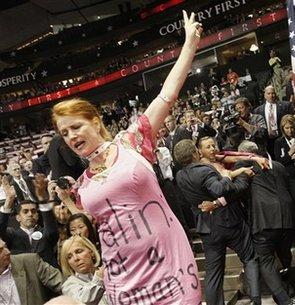 Given the track record of the Secret Service, I find some right-wing site's reports that Obama big money backer Jodie Evans was running towards the stage a bit tough to believe.
Update – my dear wife informs me that while I was flying cross country (during the McCain speech), another one of these 60's rejects tried it again during John McCain's address to the convention.
Word to you folks – try to keep in mind that Gov. Palin is at times heavily armed. I would guess she is at least an adequate shot.
Category: 2008 Election, Main
Bruce Henderson is a former Marine who focuses custom data mining and visualization technologies on the economy and other disasters.