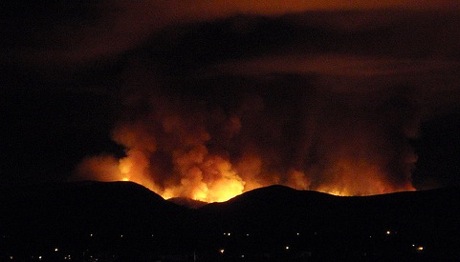 (Photo of the fire overnight from Mike 68's flickr photo stream)
To those of you waking up and wanting to know about the blaze near the south side of Camp Pendleton, according to fire officials it is now more than 70% contained. This means it is still going to be throwing a huge amount of smoke into the air throughout the day, but it is of little threat to anyone in North County or the base.
From the North County Times:
Marine Maj. Kristen Lasica, a base spokeswoman, said firefighters had the upper hand on the blaze but did not have it surrounded or controlled. Winds of 5 to 10 mph were slowly pushing the flames to the northeast.

The fire started about 3:30 p.m. on a grassy training range on the southwest part of the base. It produced a huge plume of smoke along the southern border of the Marine Corps base, from east Oceanside to Interstate 15.

Although the fire stayed on the base, it burned only about a mile from its border, worrying many residents to the south, authorities said. North County emergency dispatchers said they received "constant" calls from residents concerned that the fire was headed their way.

Following a cooling trend Thursday through Saturday, the dry offshore winds known as Santa Anas are expected to kick up in San Diego County on Sunday and last through Monday, said National Weather Service meteorologist Stan Wasowski.

Santa Anas are known for pushing wildfires throughout Southern California, including the fires that devastated the county in October 2007 and October 2003.

Fire warnings have been issued for Los Angeles, Ventura, Santa Barbara and San Luis Obispo counties, where humidity is low and winds are expected to be high, especially along the Interstate 5 corridor.
And this further word from the Camp Pendleton media office:
At this point, the November fire has burned between 900 to 1,000 acres, and is approximately 70 percent contained. A small brush fire was reported south of Serra Mesa Housing shortly after 9:00 p.m. Camp Pendleton Fire immediately responded with multiple engines, and that fire was quickly contained. During this time, several homes in Serra Mesa Housing were threatened. However, no damage to housing occurred. Currently, all roads and gates on Camp Pendleton are open. Power has been restored to all areas of the Base.
So there you have it. A practice run for this year's fire season, thankfully this one did not get out of control, and no structures were lost.
Category: Main, San Diego Fires
Bruce Henderson is a former Marine who focuses custom data mining and visualization technologies on the economy and other disasters.