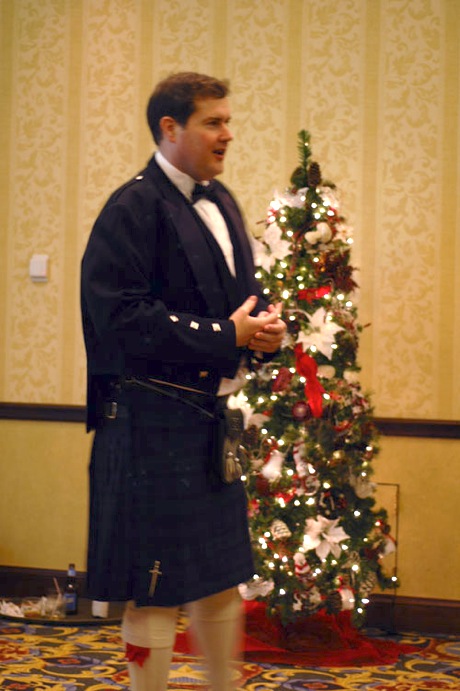 A photo of me at the 2006 OSG Christmas Party in a kilt

I have my good friend Sean Church to thank for this nugget of internet insanity. It seems that according to someone with the surname of "Stewart" has declared that wearing a kilt is a sin, and proceeds to cite biblical reference to support his claims:
Although 1st Corinthians 6:9 is clearly condemning homosexuality and cross-dressing, it is also equally clear that any form of femininity in a man is sinful. This is why Deuteronomy 22:5 condemns men wearing women's apparel. Clearly, it is not acceptable for men to wear women's clothing. Men are to be men! Men should talk like men, dress like men, walk like men, and act like men. Kilts on men are sissyish. Although a man wearing a kilt may be tough, the skirt makes him look silly and foolish. Although most men who wear kilts aren't gay, it makes one wonder why any man would ever want to wear clothing that is considered women's apparel by 99% of the population. A quick look at any bathroom door will quickly reveal that men wear pants, and women wear dresses.
Och wee Bobby Stewart… Allow me to encourage you to visit Glasgow and state that. But then I have to think this web site is a joke.
Till then, I am going to proudly wear my kilt, as those that know me can relate, I am not shy about it. It does in fact take a man of character and courage to wear such a garment, and wear it with pride.
Category: Commentary, Humor, Main
Bruce Henderson is a former Marine who focuses custom data mining and visualization technologies on the economy and other disasters.