The upcoming Obama administration was so eager to claim some form of government legitimacy, they decided to invent a previously unknown federal bureaucracy: The Office of the President-Elect.
Now mind you, every President-Elect has a transition team that does a lot of work to make sure the day they get into office they can start trying to be effective. But never before has anyone made up a seal and everything for it.
Call it hubris. But then Obama has had this on display for some time. Below are pictures of his seat on "O-Force One", yes it says "President" on it. Also if you recall that seal he started sticking on the front of his podium.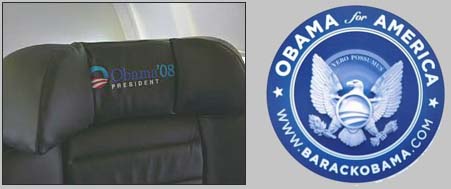 I hope this is just the sign of a complete political rookie, but I do in fact get nervous about any political organization that stresses symbolism and icongraphy this much.
Category: 2008 Election, Main, US Politics
Bruce Henderson is a former Marine who focuses custom data mining and visualization technologies on the economy and other disasters.