[Thanks to Ace of Spades for the link!]
Over the past decade or so, astronomers have discovered over 300 extra-solar planets, that is, planets orbiting stars other than our Sun. However, these discoveries have largely been indirect, due to the planet transiting the star it orbits, or variations in the radial velocity of the star.
But now we have honest-to-goodness photographs of planets orbiting other stars.
The first here is the planet Fomalhaut b, orbiting the star Fomalhaut:
Fomalhaut itself has been blocked out in order for the telescope to take this photograph. The rays spreading out from the star are a processing artifact, but the planet is real, as is the dust ring.
Here's the second planetary system, HR 8799: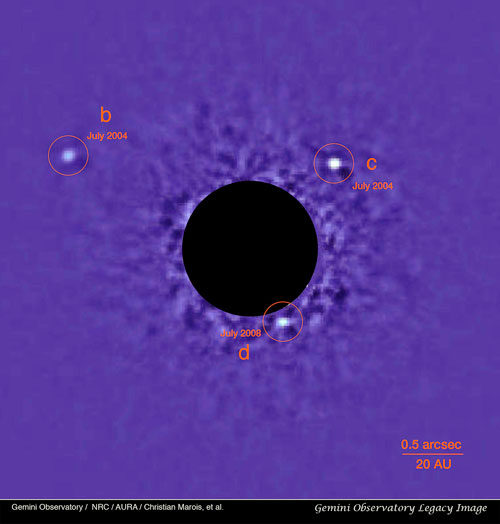 The dots labeled 'b' and 'c' are two planets orbiting the star. Just too cool for words. Hat tip to Slashdot.  ..bruce w..
Category: Main, Photography, Science, Space
Webster is Principal and Founder at Bruce F. Webster & Associates, as well as an Adjunct Professor of Computer Science at Brigham Young University. He works with organizations to help them with troubled or failed information technology (IT) projects. He has also worked in several dozen legal cases as a consultant and as a testifying expert, both in the United States and Japan. He can be reached at bwebster@bfwa.com, or you can follow him on Twitter as @bfwebster.