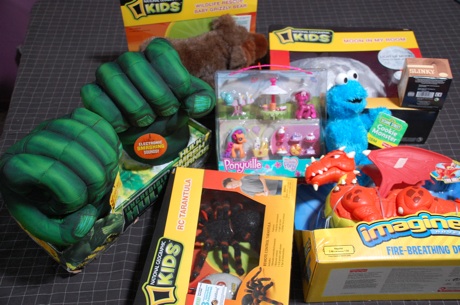 As a former US Marine, the "Toys For Tots" program holds a special place in my heart. In the days when I was on active duty, our squadron (yes I was in the wing), VMFP-3, put forth a huge effort to ensure that we collected more toys than any other squadron on base.
For us it was a matter of pride, being the last surviving F-4 squadron in the Marine Corps, and being the only reconnaissance squadron in the Corps, we wanted to ensure that we showed those F/A-18 sissies how it was done.
These toys go to needy families, of which there is a growing number this year. It also takes surprisingly little time and money to be a part of. Here is how:
1. Go toy shopping. This does not have to be large, or extravagant. You can get some great toys for under $20.00 today, especially with places like Khols and Marshalls cutting prices like mad this week. Even if you only can afford to buy one, it really does make a difference.
2. Find where the nearest collection center is. You can find locations on the web at http://www.toysfortots.org/
3. Drive down and drop off your toy. Take your kids with you, as it's a good moment to share the importance of being kind and generous.
4. Smile and feel good, knowing you made a difference.
On a personal note – This year at our house, we were especially motivated knowing how broken things are starting to become in the economy. Through hard work and the blessings of the Almighty, we have had a fairly good year, and it's time to share.
There are some really cool toys out there now! (a small fraction of which is shown above) Stuff that I wish they had when I was young. Highlights this year include the ever popular Hulk Hands which make smashing noises when you hit them on things. A remote controlled spider, and a lunar clock that you can hang on your wall and changes phases just like your very own personal moon.
Semper Fi!
Bruce Henderson is a former Marine who focuses custom data mining and visualization technologies on the economy and other disasters.