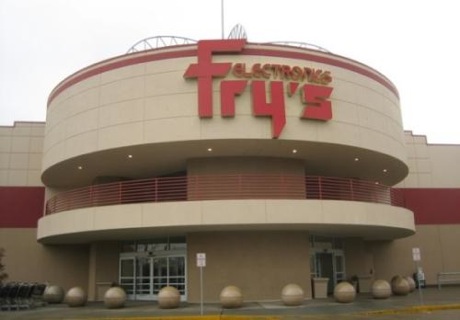 Thanks to long time friend Sean Church for this great story about a corrupt executive at Fry's electronics. For those of you who may not know, Fry's is the ultimate store for nerds, geeks, gadget heads and everyone who loves computers and electronics. Their motto, "Your best buys are always at Fry's!".
Now this story that a salesman who rose through the ranks to become a vice-president was skimming money from the company and vendors to pay his huge gambling debts. In this day in age, he is a small fish compared to the headlines you can read anywhere on the net.
Seems he was able to embezzle $162 million, most of which was funneled to the MGM Grand and the Sands casinos in Las Vegas. When times were good and everyone was fat, dumb and happy – it was easy to hide things like this. Now that money is tight, all manner of scams and schemes are being revealed. One has to wonder how big the Bezzle really is…
From Inside Bay Area:
Ausaf Umar Siddiqui, 42,who goes by "Omar" and has been Fry's vice president of merchandising and operations, appeared in federal court today, where prosecutors filed a complaint that alleges he was involved in a "secret kickback scheme to defraud Fry's Electronics of millions of dollars."

According to the complaint, which was unsealed today, Siddiqui convinced Fry's that the company should eliminate sales representatives on his accounts, and instead, he'd act as a middleman between vendors and Fry's. He promised that he'd save Fry's a lot of money that way. But instead, the complaint alleges, he ended up charging exorbitant commissions — up to 31 percent, or ten times the normal amount — to the vendors, which he funneled to his own "straw" company PC International. Vendors were guaranteed steady business, so Siddiqui would have a steady cash flow to pay off casinos. Siddiqui spent $162 million in three years at just two of his favorites, the MGM Grand Casino and Las Vegas Sands Casino, according to his bank statements detailed in the complaint written by IRS Agent Andres Gonzalez.
Expect TARP funds to be used to paper over this guy's phoney money scheme as well. Oh yes, and the New York Times will decide it's Bush's fault.
Bruce Henderson is a former Marine who focuses custom data mining and visualization technologies on the economy and other disasters.