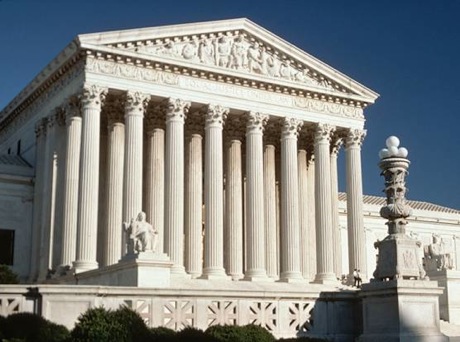 As expected the US Supreme court has declined to further entertain the "Donofrio v. Wells" case, which sought to have the court better define the portion of Article 1 of the US Constitution that defines the requirement for the President to be a "Natural Born Citizen".
From Legal Line News:
Although Donofrio concedes Obama was born in Hawaii, he contends that Obama is a British citizen because to his father's British citizenship. For the case to have been placed on the high court's docket, four of the nine justices had to agree to hear the case. The Donofrio case was just one of a handful of lawsuit challenging Obama's citizenship.
Sadly for the US, I am guessing this one won't go away. President-Elect Obama has placed tight seals over a large section of his past, and that presents a puzzle that some will find irresistible. Even if he only serves one term, 4 years is an eternity with persistent, motivated researchers working at internet speed, sifting for that "smoking gun" they all think they might find. For the people who won't let it go, there is the notion that they could be the next internet blog breakthrough like what burned down Dan Rather and CBS News.
Already there is news that a handful of lawyers intend to begin contesting every executive order or law he signs on the basis that he is not legitimately able to hold the office.
I am personally worried that those highly motivated folks may find what they want to find, and that it would cause incalculable damage to this country. The best thing for everything would be for the President-Elect to simply release these records and shut them all down.
Category: 2008 Election, Legal, Main
Bruce Henderson is a former Marine who focuses custom data mining and visualization technologies on the economy and other disasters.