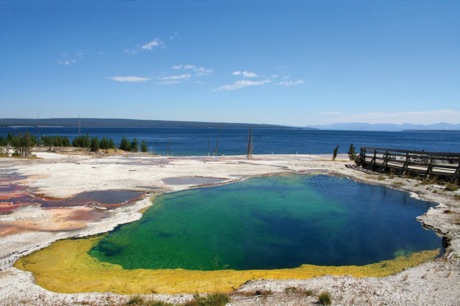 Something to keep an eye on…
Seems that there has been a stream of small quakes underneath the lake at Yellowstone.
Quakes under Yellowstone are nothing new. Yellowstone is the shell of a super-volcano, a caldera as it is called. It has erupted massively in the past and will do so again at some future date that we don't know.
These quakes are all fairly shallow and in more or less the same spot. In addition they are in the area of the new magma dome under the lake. Last but not least, the traces from the seismic monitors have begun to take on the tell tale signs of harmonic tremors according to some folks on the web. This is an indication that magma is moving within the plumbing under the earth.
This likely means that a bit of normal volcano house keeping is going on, in fact many volcanos go through periods like this and no eruption ever takes place. Likewise there is an non-zero chance that the Yellowstone caldera could be starting to build up magma for an eruption several weeks or several centuries from now.
If you are feeling geo-nerdy, you can head over to the web siesmic monitoring page here, and look for the one labeled LKWY_SHZ_US
Map of where the quakes are popping below, click on image for the most recent map from the USGS.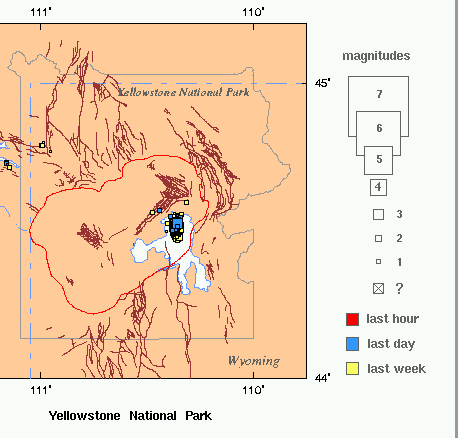 Update – US News has a post on the subject here.
Category: Earthquakes, Emergency Preparedness, Main, Science
Bruce Henderson is a former Marine who focuses custom data mining and visualization technologies on the economy and other disasters.