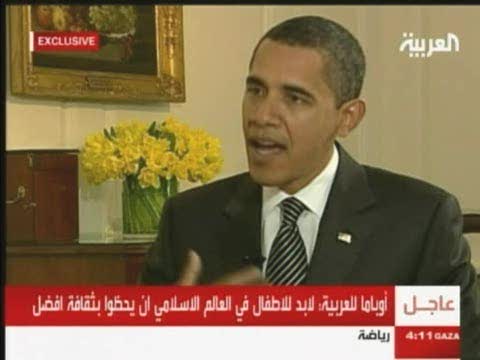 Yesterday afternoon the conservative blogosphere was erupting over news that President Obama had given his first television interview – to Al-Arabiya:
CAIRO, Egypt (AP) – President Barack Obama chose an Arabic satellite TV network for his first formal television interview as president, part of a concerted effort to repair relations with the Muslim world that were damaged under the previous administration.

Obama cited his Muslim background and relatives, practically a taboo issue during the U.S. presidential campaign, and said in the interview, which aired Tuesday, that one of his main tasks was to communicate to Muslims "that the Americans are not your enemy."

The interview on the Dubai-based Al-Arabiya news channel aired as Obama's new envoy to the region, former Sen. George J. Mitchell, arrived in Egypt on Tuesday for a visit that will also take him to Israel, the West Bank, Jordan, Turkey and Saudi Arabia.
I have two thoughts on this, firstly it might be yet another in a list of "rookie mistakes" that Obama is committing. So far several of his opening moves have been off-key or call into question some of his pre-inauguration pledge to set a new post-partisan tone.
Secondly, it might actually have been a brilliant foreign policy move on his part. By giving such prominence to a middle-eastern network, he is using a unique situation to grab the attention of a large number of people who have at times worked against US goals and interests. By leveraging his arabic name, and the fact that many people in the middle east assume he is at least a closet muslim, he has a great deal of credibility to deliver a message.
If this is the case, I am sure he is under no pretense that any hard core jihad thugs area going to care one bit about what he has to say. I would think what he is trying to do is to begin a long, slow process of trying to peel away some layers of support for the radicals. To some extent putting a more muslim face on the "great satan".
While some on the right have claimed that this smacks of disloyalty to the country, I think it is actually a logical extension of Bush's policies. We have already shown that we can be tough and determined against our foes. Perhaps the Obama white house is trying to say "Maybe you should try talking to us".
Sadly, if history is any example, this is likely to be a worthless gesture. But I would think he loses nothing in the attempt. The people most offended were the press (who are going to love him anyhow) and some hardcore national security right, who are certain that he is not an American citizen and were not going to support him anyhow.
Category: 2008 Election, Colorado, Family, Mashups
Bruce Henderson is a former Marine who focuses custom data mining and visualization technologies on the economy and other disasters.