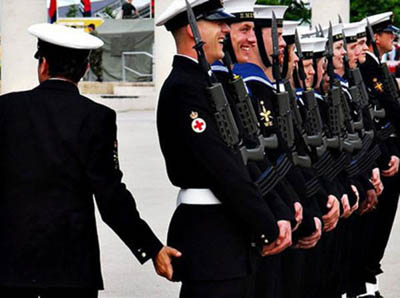 A headline on the Fox News website reads like this:
Obama to End Military's 'Don't Ask, Don't Tell' Policy
I hope beyond hope that this is some nasty trial balloon to judge how huge the backlash against this is going to be. Let me short cut the process for you, you are about to gut the military by doing this.
The text looks something like this
WASHINGTON — President-elect Barack Obama will allow gays to serve openly in the military by overturning the controversial "don't ask, don't tell" policy that marred President Clinton's first days in office, according to incoming White House Press Secretary Robert Gibbs.

The startling pronouncement, which could re-open a dormant battle in the culture wars and distract from other elements of Obama's agenda, came during a Gibbs exchange with members of the public who sent in questions that were answered on YouTube.

"Thadeus of Lansing, Mich., asks, 'Is the new administration going to get rid of the "don't ask, don't tell policy?'" said Gibbs, looking into the camera. "Thadeus, you don't hear a politician give a one-word answer much. But it's, 'Yes.'"
Romantic entanglement, straight or gay, has a detrimental effect on combat effectiveness. I saw this myself first hand in the Corps, and I am sure it is no better today.
I am quite certain that gay people do and have served with distinction since the earliest days of warfare, and they are welcome to serve if their focus is on the mission and their duty to the country.
The US military is not a social experiment for liberal causes. If you want to have a place for flagrant homosexual behavior, don't make that the service. Don't ask, don't tell is the kind of policy that no one likes, but it recognizes that gay people are and can be just as patriotic and mission focused as straights, but it keeps the whole question of sexual orientation out of the equation, where it belongs.
Category: Commentary, Main, Military
Bruce Henderson is a former Marine who focuses custom data mining and visualization technologies on the economy and other disasters.