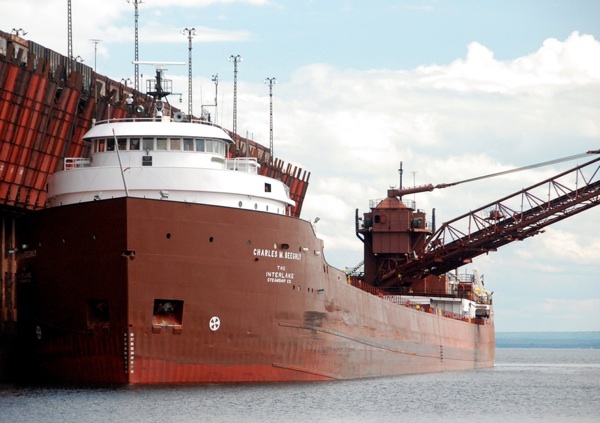 In a noticeable and welcome break from downward pointing leading indicators, we have an important one headed upward. The dry bulk shipping index, which measures how much stuff is being sent over the oceans, actually had an upturn. This was one of the earliest things to crash, as companies around the world suddenly came to the understanding that they had made too much of everything, and were sitting on inventory they could not move. When that happened the factories needed to take in less raw material as they slowed down or stopped production, and they output less, leading to fewer refined or finished goods being shipped.
How word comes from Lloyds that there has been an uptick thanks to China buying a large amount of iron ore:
THE surge in dry bulk freight driven by a jump in Chinese iron ore imports could be shortlived warns a report Macquarie Research.

The Baltic Dry Index jumped 14% yesterday, pushed up by renewed demand for capesize vessels. The cost of shipping iron ore from Brazil to China has risen from a low $6.80 per tonne in mid-December to $21.60 per tonne. Rates from Australia are around $7.90 per tonne compared with a low $3.90 in mid-December.

"What it reflects is a more general recovery in Chinese steel production from the lows of June-October 2008 following an end to steel destocking and a flurry of trader-buying of steel," said a report by Macquarie.

"In addition, temporary iron ore shortages appeared to develop at the end of 2008, following a collapse in domestic iron ore production and a reduction in port stocks."
This is interesting news, because it means that China is not quite ready to call it quits yet. It remains to be seen if this is demand driven, or if this is the central communist government ordering that the steel factories keep producing, in an effort to keep an increasingly agitated population working. Lloyds cites this as well:
The recovery could prove to be a shortlived one, as there is no evidence of an increase in demand for steel in China. A major downturn in iron ore imports continues in Japan and Europe as hefty steel production cuts are implemented.
China, as stated before, is in a very precarious position today. It has given it's people a small taste of wealth and prosperity, only to have the world economy tank. In some small part this is because of the way that China conducted itself during the boom.
Category: China, Economics, Main, Recession Watch
Bruce Henderson is a former Marine who focuses custom data mining and visualization technologies on the economy and other disasters.