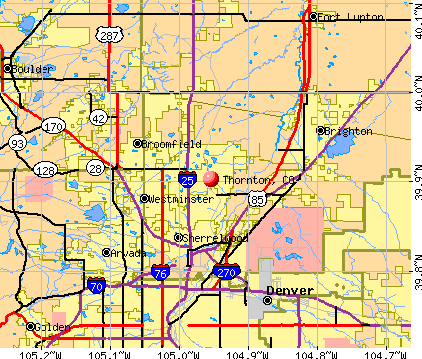 The wonderful Stimulus Watch website gives you an opportunity to see what funding is proposed in the House Stimulus package for any part of the country. I decided to look up Colorado, and in particular Parker, which is where I live, in hopes of doing some first-person investigation of any proposed projects.
Nothing. In Parker, that is, though there is plenty for Colorado as a state.
However, what caught my attention is the list of projects for Thornton, Colorado, a smallish suburb north of Denver. It appears that Thornton (Adams County, really) has a population of around 110,000 people, out of 4.3 million for the state of Colorado as a whole.  So, how much does the stimulus package hold for Thornton?
Yep, you read that right: $487 million dollars ($487,717,676.00 to be exact), or about $4400 for each and every resident of Thornton.  And seeing as the state of Colorado is getting a total of $2,447,922,036, that means that Thornton — with just 2.5% of the total population of Colorado — is getting roughly 20% of Colorado's total "stimulus" funds, or eight times what its per capita proportion should be. In fact, Thornton has more stimulus funds allocated to it than the city of Denver itself (with "just" $342 million).
So, what's up with Thornton? Enquiring minds want to know.  ..bruce w..
Category: Colorado, Economics, Main, Obama Administration, Stimulus, US Politics
Webster is Principal and Founder at Bruce F. Webster & Associates, as well as an Adjunct Professor of Computer Science at Brigham Young University. He works with organizations to help them with troubled or failed information technology (IT) projects. He has also worked in several dozen legal cases as a consultant and as a testifying expert, both in the United States and Japan. He can be reached at bwebster@bfwa.com, or you can follow him on Twitter as @bfwebster.