I've been swamped with work (always a good thing), which is why my morning link roundups haven't been here the past few days. Plus I was getting a bit discouraged at just how rapidly the handbasket seems to be plunging towards hell. Woooooooot!
Well, I tried to make it Sunday
But I got so damned depressed
That I set my sights on Monday
And I got myself undressed….

— "Sister Golden Hair", America
In the meantime, remember this xkcd instant classic?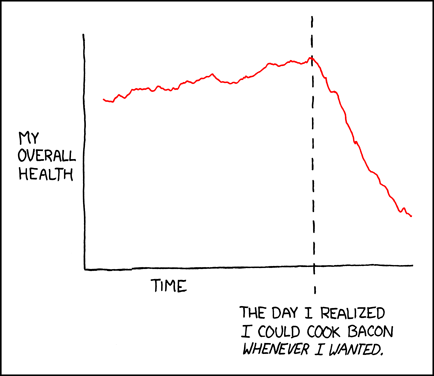 Yeah, well I just made a decent thick-ish homemade from-scratch pizza crust for the first time — toppings were half turkey pepperoni w/pesto sauce, half grilled-chicken w/alfredo sauce, fresh tomatoes and shredded mozzarella on both sides — and I think I'm in serious trouble.  And I haven't even tried the bread flour/semolina flour mix yet (I used white/wheat instead).
The day I buy a pizza baking stone…well, just roll me out and bury me. ..bruce w..
Webster is Principal and Founder at Bruce F. Webster & Associates, as well as an Adjunct Professor of Computer Science at Brigham Young University. He works with organizations to help them with troubled or failed information technology (IT) projects. He has also worked in several dozen legal cases as a consultant and as a testifying expert, both in the United States and Japan. He can be reached at bwebster@bfwa.com, or you can follow him on Twitter as @bfwebster.