I scan the web so that you don't have to . . .
Let's see . . . the North Koreans . . . the Chinese . . . and now the Russians. Who's going to be the next to challenge the new Obama Administration? Maybe Iran? And how will the Obama Administration respond? Oh, I know — by no longer calling captured terrorists "enemy combatants"! That'll show them. "Reset button", indeed. We seem to be resetting ourselves  back into the Cold War.
Meanwhile, VP Joe Biden remains the gift that keeps on giving. Explain to me again why this man was somehow more credible as Vice President than Sarah Palin? On the other hand, his response was to a friend addressing him as "Mr. Vice-President", so he was merely echoing the sentiments of a lot of other Americans.
Didn't we see this technology in "The Dark Knight"?
The Economist (a magazine I used to subscribe to until it veered sharply left) worries that "President Obama's crisis response is not up to the task". I think that has already been established. Didn't take long, either.
Obama is losing Michael Barone, but I'm not sure he ever had him.
Obama may also be losing the Washington Post; at least, the WaPo appears to have decided that it's a real newspaper, not a Democratic lapdog like the New York Times or MS-NBC. This analysis piece by Scott Wilson notes the Blame Bush syndrome coming from the White House. (Hat tip to Red State.)
Obama may even be losing Robert Reich; at least, he's worrying him.
In contrast, Mark Steyn says we shouldn't worry at all — it's our kids who'll have to clean up Obama's mess!
Democrats: The Party of Tax Cheats! I know it's been asked before, but are Democrats in favor of higher taxes simply because they have no intention of paying them?
Remember my link yesterday to the "Obama Fingers" they're now selling in Germany? Rachel Lucas gins up this wonderful poster: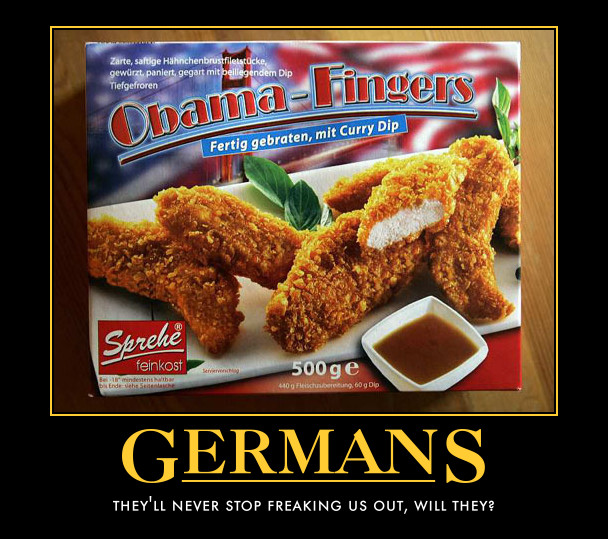 Yep, it's a new era of relations with Europe, all right.
Speaking of chicken, here's what I'm fixing today (got the recipe years ago from my daughter Bethan):
Tabasco Chicken
Take a few pounds of boneless, skinless chicken breasts and put them in a large ziploc bag. (NOTE: I often first cut the breasts lengthwise; they cook faster and more evenly that way.) Dump in one entire large (5 oz) bottle of Tabasco sauce, whatever your favorite flavor is (original, chipotle, jalapeno).  Close the bag and squish things around to coat all the breasts. Let the chicken marinate for at least a few hours. Grill over coals; don't overcook. The leftovers, sliced up, make great fajitas.
Oops! Juror twitters during $12 million civil case (" I just gave away TWELVE MILLION DOLLARS of somebody else's money!").
Movie recommendation for the weekend: "36 Hours" (1965, B&W). James Garner stars as a US Army officer involved in D-Day planning who is drugged and kidnapped by German intelligence just a few days before the Allied Invasion of Europe. He wakes up in what appears to be a US Army Hospital, his hair has gray in it, he can't read without glasses. He's told that it's 1950 and that he's been suffering from amnesia due to torture inflicted by the Gestapo. So, his doctor (Rod Taylor) asks him, what can he remember about the Allied Invasion of Germany…? Also stars Eva Marie Saint, as well as John Banner (Sgt. Schultz from "Hogan's Heroes") in a wonderful bit part that probably landed him the "Hogan's Heroes" role. A well-done film with some interesting twists; ripe for a modern remake.
My two favorite plays of all time are "Arcadia" by Tom Stoppard and "A Man for All Seasons" by Robert Bolt (neither of which should be confused with my favorite Broadway musicals of all time, "West Side Story" and "Sweeney Todd"). And this is probably my favorite scene from "A Man for All Seasons" (hat tip to Article VI Blog):
Tha-tha-tha-that's all, folks! Enjoy your weekend!  ..bruce w..
Category: China, Economics, Food, Geopolitics, History, Journalism, Links roundup, Main, Maps, Military, Movies, Obama Administration, Recession Watch, Recipes, Sarah Palin, Stimulus, Television, US Politics, Video
Webster is Principal and Founder at Bruce F. Webster & Associates, as well as an Adjunct Professor of Computer Science at Brigham Young University. He works with organizations to help them with troubled or failed information technology (IT) projects. He has also worked in several dozen legal cases as a consultant and as a testifying expert, both in the United States and Japan. He can be reached at bwebster@bfwa.com, or you can follow him on Twitter as @bfwebster.