For the last three or four days, Winnie has spent much of her waking time standing out by this portion of the fence, staring along the side of the garage. She was trying to actually dig her way under the face — moving the rocks with her paws — which led me to put the long metal strip down. Finally, yesterday, I went around to that side of the garage to see what she could be staring at. I picked up a length of gutter drain pipe — and a small, frantic creature slid out.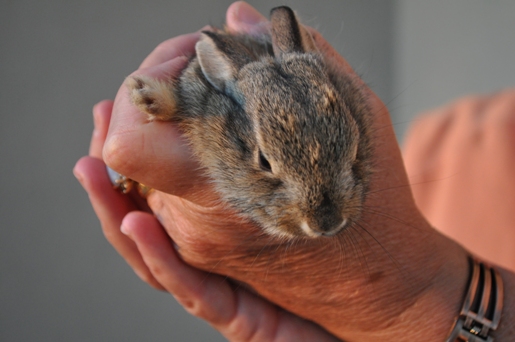 This wee bunny then made the mistake of darting away from me, through the fence and into the enclosure with three highly excited MinPins. It hid under the pine tree you see the first photo above, but Winnie rooted it out, got it in her jaws, and ran into the house with the bunny. I rapidly followed and with some difficulty got the bunny away from Winnie, sure that it was injured and possibly even dead.
Nope.  As far as I could tell, the bunny was just fine, if probably terrified nigh unto death.  It was, as you can imagine, just too cute for words, and I actually took about 70 pictures of it. As you can see, Winnie was still anxious to get her jaws into her prey:
In the end, I took the bunny and the segment of gutter drain pipe in which it had been hiding over by the propane tank, some distance from the house and near a lot of thick grass. I set the pipe down and put the bunny at its entrance — and the bunny quietly crawled into the pipe, doubtlessly grateful to have escaped being a snack (or toy) for a pack of MinPins.  ..bruce w..
Category: Cute, Dogs, Photography
Webster is Principal and Founder at Bruce F. Webster & Associates, as well as an Adjunct Professor of Computer Science at Brigham Young University. He works with organizations to help them with troubled or failed information technology (IT) projects. He has also worked in several dozen legal cases as a consultant and as a testifying expert, both in the United States and Japan. He can be reached at bwebster@bfwa.com, or you can follow him on Twitter as @bfwebster.