Sorry it's taken me so long to post here. I tried last night, but I was so exhausted that I kept falling asleep while composing this post and resizing my photographs so that they weren't each 5 MB in size. I was tied up here in DC pretty much all day today (Sunday) and got back to the hotel this evening.

Obviously, the live-blogging didn't work out. Having what was at least a few hundred thousand people, most of whom had cell phones, all within a relatively small area appeared to saturate the local cell phone circuits. I was having a hard time just getting any signal on my iPhone; I got repeated "Unable to connect to phone network" (or words to that effect). My Acer (with AT&T GSM connectivity) either wouldn't connect or would lose the signal after I did connect.
Saturday morning, around 8 am, my wife Sandra and I walked down to Freedom Plaza, thinking we were going to be early. A good sized crowd was already there, and it was growing by the minute. Mind you, this was a full hour before festivities at Freedom Plaza were supposed to start, and three-and-a-half hours before the march up to the Capitol was supposed to start. The crowd rapidly filled up the plaza and the streets around it.And kept growing and growing and growing.
The age range here was quite broad. There were babies, children, teenagers, young adults, thirtysomethings, middle-aged folks, and the elderly. There were a surprising number of people in wheelchairs. There were some dogs, even. People were friendly, outgoing, and gregarious; I had several people just turn to me, introduce themselves, and ask where I was from.

Almost all the signs were hand-made, though a few had been professionally printed.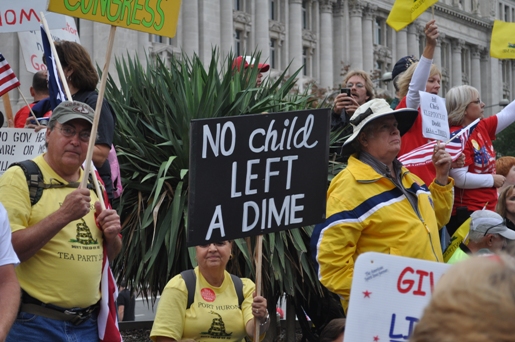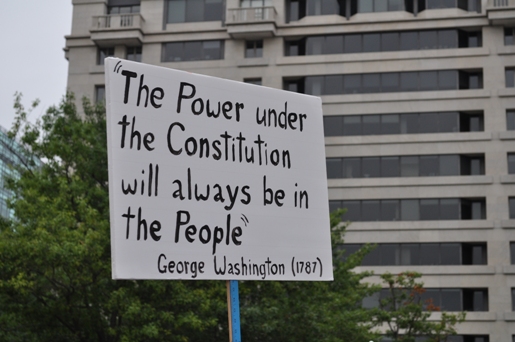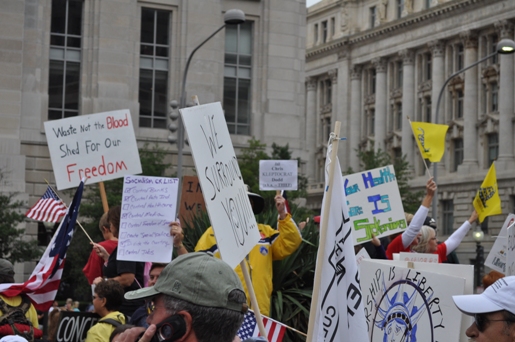 And more signs: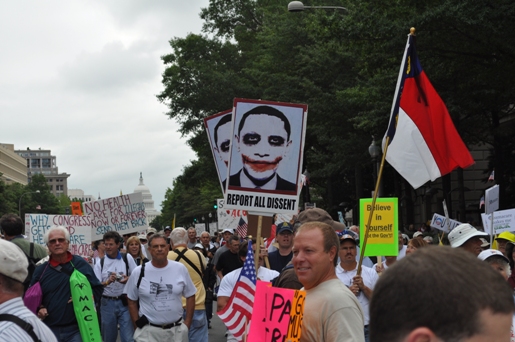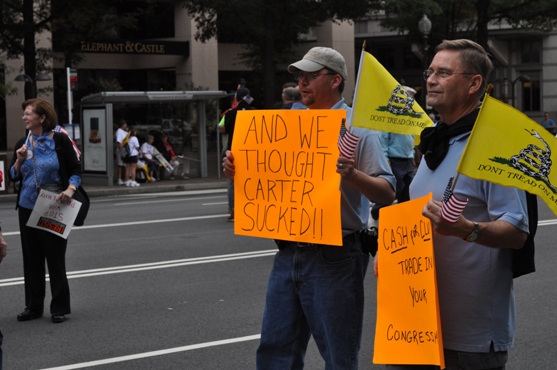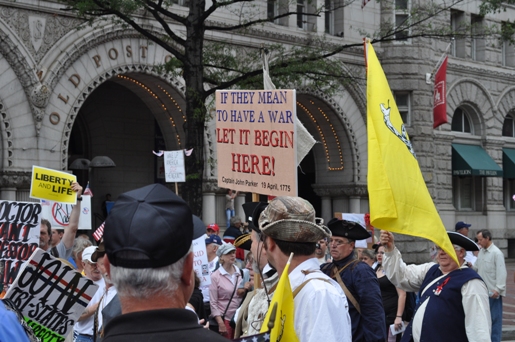 The crowd quickly filled the section of Pennsylvania Avenue in front of Freedom Plaza, then kept growing towards the Capitol.
DC Police parked several cars on Pennsylvania a few blocks down, but the crowd finally grew too large, and they moved them out of the way. People started marching towards the Capitol around 10 am, and the official march started around 11 am, with a drum-and-fife corps in Revolutionary era outfits setting the beat. They were quite loud, very good, and very effective.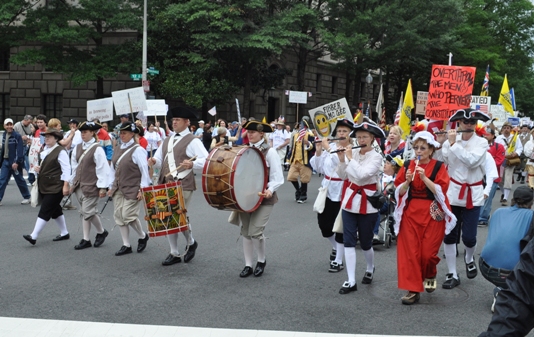 Along the way, the march passed the National Archives, where I thought the following engraving was significant:
Many protesters were lining Pennsylvania and joined in the march as it passed, as we all headed to the Capitol.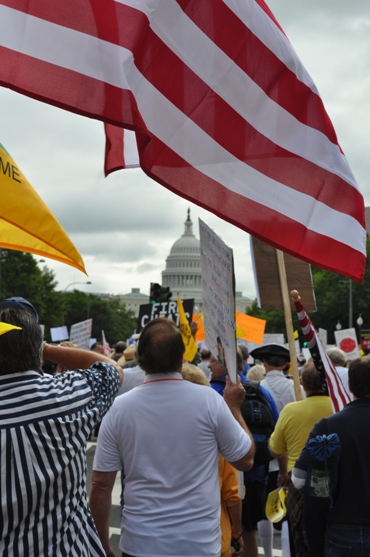 There were also hundreds already on the West Capitol lawn when the march got down there. The lawn started filling up fast.
And the people just kept on coming.
Once it filled, protesters were directed to the two side lawns. They then started to file onto the Mall, though they were commanded by the DC Park Police to stay off the Mall's grass because another organization had it reserved.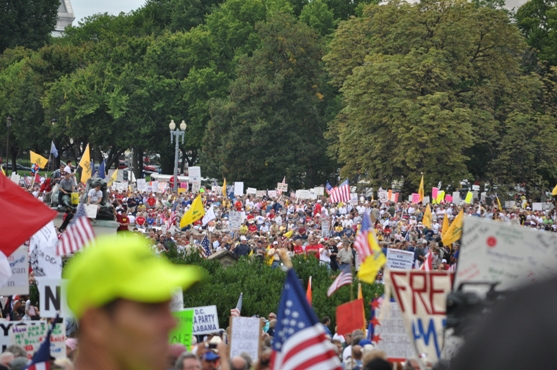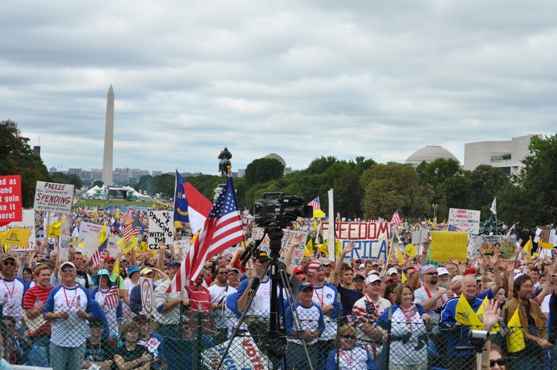 The crowds stayed, too. Here's the crowd at the end of the program (about 4 pm Eastern time); you can see how they've spilled out onto the Mall.
If I had had any clue that folks were going to challenge the size of the crowd, I'd have spent more time photographing it, and from different angles. It was massive.
And one last reminder: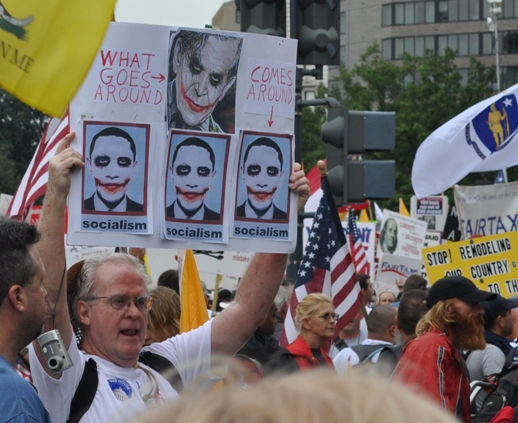 ..bruce..
Category: 2010 Election, Main, Photography, You Say You Want a Revolution?
Webster is Principal and Founder at Bruce F. Webster & Associates, as well as an Adjunct Professor of Computer Science at Brigham Young University. He works with organizations to help them with troubled or failed information technology (IT) projects. He has also worked in several dozen legal cases as a consultant and as a testifying expert, both in the United States and Japan. He can be reached at bwebster@bfwa.com, or you can follow him on Twitter as @bfwebster.