OK, this Obama cult of personality is getting a wee bit out of hand. I don't begrudge his supporters waxing rhapsodic about his many virtues (as they see them), but this whole nationwide address to students — and the accompanying letter from EdSec Arne Duncan to teachers and administrators — is getting a bit too close to being creepy, particularly this section of the Duncan letter (emphasis mine):
[Students can] write letters to themselves about what they can do to help the president. These would be collected and redistributed at an appropriate later date by the teacher to make students accountable to their goals.
Note what this item doesn't say: "to help themselves", "to help their families", "to help their community" or even "to help the country". It's "to help the president." That, in my opinion, is way out of line. Having the teachers collect these letters and use them "to make students accountable to their goals [to help the president]" is even more creepy. Those teachers aren't being paid to make our country's students "accountable" for goals to "help the president." They are there to teach our students how to read, write, reason, do math, and think for themselves — and they're doing a damned poor job of it.
Jack Kennedy's famous inaugural quote was, "Ask you what can do for your country." It was not, "Ask what you can do for me."
[UPDATED 09/02/09 — 2030 MDT]
Boy, that was fast. The Department of Education has quickly revised the instructions to teachers regarding their students, changing the one line I cited above. It now reads (emphasis mine):
Write letters to themselves about how they can achieve their short-term and long-term education goals. These would be collected and redistributed at an appropriate later date byt he teacher to make students accountable to their goals.
Of course, the real question is — how many of the teachers will continue to use the old assignment rather than the new one? Hat tip to Jim Geraghty over at NRO Campaign Spot.
[END OF THIS UPDATE]
Along those same lines, there was a flap at an elementary school in Utah over showing the "I Pledge" video at a school assembly (emphasis mine):
Many pledges, such as supporting local food banks, smiling more, and caring for the elderly are noncontroversial. But other pledges, such as "to never give anyone the finger when I'm driving again," "to sell my obnoxious car and buy a hybrid" and to advance stem cell research cross the line, some say. . . .


Gayle Ruzicka, president of conservative Utah Eagle Forum, said the video was blatantly political. She said other offensive pledges included, "I pledge to be of service to Barack Obama," "I pledge allegiance to the funk, to the united funk of funkadelica," and pledges to not use plastic grocery bags and not flush the toilet after urinating.
The video then ends with these various celebrities saying (shouting, really), "What's your pledge?" "What's your pledge?" "I know you've got a pledge — what's your pledge?" And then: "I pledge to be a servant to our president and all mankind." And it pulls out to end with the following image: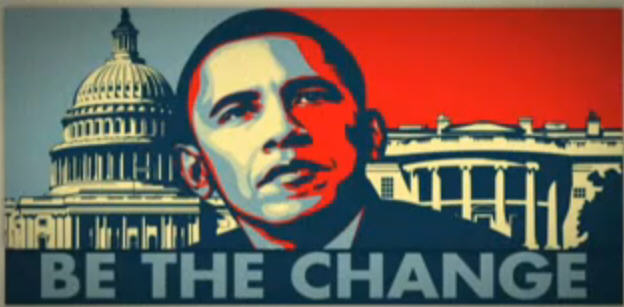 OK, that's full-on creepy. This is being shown at a mandatory, official assembly of grade-school children. According to the newspaper article, it was recommended by the head of the local PTA but was not vetted by the school's principal before it was shown (quote: "I wish I would have seen this before. I don't think I would have shown it.")
[ADDED 09/02/09 — 1520 MDT]
In the meantime, Jules Crittenden reports on a Boston high school where the Hingham (Boston) High School had as its required summer reading (…wait for it…)   Dreams of My Father by (yep) Barack Obama:
At the high school in la-di-da Hingham on Boston's South Shore: "Dreams from My Father: A Story of Race and Inheritance." Parents complained, and the principal said their kids could read another memoir of their choice. She just never told all the other saps, who got stuck reading the vanity campaign tome.
And from the original Boston Herald article:
With school opening Tuesday, the Herald has learned teens whose offended parents complained were allowed by Principal Paula Girouard McCann and Helaine Silva, head of the Hingham Public Schools English Department, to pick any other memoir – an option they never publicized.

"I had no idea," sophomore Graham King, 15, who was only on page 120 of the 460-page autobiography yesterday, told the Herald with an astonished look. "My parents would like me to be done with it."
As Jules says, "Unclear whether any other sitting pol's tome has ever been assigned, but I'm going to take a wild guess that this is special, because it's … Obama."
[ANOTHER UPDATE — 09/02/09 1748 MDT]
Jude over at Hugh Hewett's blog raises his own concerns about Obama's cult of personality:
The danger we now face as a culture, as a political culture, is that either Obama is wallowing in the lionization of his own image and no one close enough is calling him on it, or that those around him are propogating the idolization of a man as a means to centralized power, and he is not discouraging it because he enjoys it and the power it seems to bring.
Jude then goes on to note (as others have, including someone at Daily Kos[!]) that while Pres. Obama's portrait has been up in Federal buildings since his inauguration, Vice-President Biden's has not. The current explanation is that Biden's official portrait is at the General Services Administration, but that it has not yet been distributed. Come to think of it, other than his eulogy of Sen. Ted Kennedy and his dismissal of Russia as having a "withering" economy, Joe Biden has largely been absent from the news and public stage all summer long.
[END OF UPDATES]

Finally, you have this excellent Pajamas TV piece by Bill Whittle about the deliberate use Obama-specific iconography after the 2008 election. We are all familiar with the Obama campaign logo: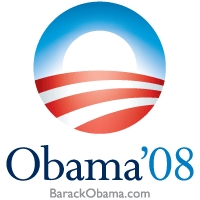 The logo continues to be used heavily at BarackObama.com, which is the home for the Organizing for America organization run by the Democratic National Committee:
I counted forty (40!) instances of the Obama logo just on the home page of that website (the snapshot above is only the upper portion of that home page).

But it is also used (or adapted) for official US efforts as well. Or do you think this logo at the Recovery.gov website — and on signs all over America — is purely coincidental?
Still, as Whittle points out, there is a downside to this heavy "branding" of Pres. Obama — it makes it easy to mock him without attacking the office of the Presidency. Likewise, should Obama's poll numbers continue to sink, the Obama brand will drag down those organizations and efforts that rely upon it. And maybe, just maybe the Obama cult of personality will dwindle away.  ..bruce w..
Category: 2008 Election, 2010 Election, Creeping socialism, Cult of personality, Main, Obama Administration, Stimulus
Webster is Principal and Founder at Bruce F. Webster & Associates, as well as an Adjunct Professor of Computer Science at Brigham Young University. He works with organizations to help them with troubled or failed information technology (IT) projects. He has also worked in several dozen legal cases as a consultant and as a testifying expert, both in the United States and Japan. He can be reached at bwebster@bfwa.com, or you can follow him on Twitter as @bfwebster.