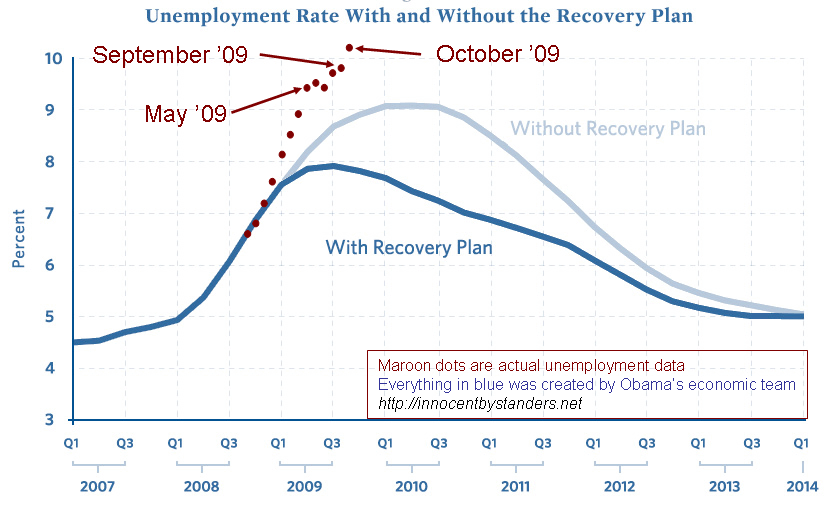 You know, the massive stimulus that was absolutely necessary to keep unemployment from rising above 8.0%? Kind of missed the target, didn't it?
Anyone want to guess what unemployment will be in November 2010? November 2012? I'm willing to bet $1000 that it won't be down to 7.0% and 5.5%, respectively, as the Obama economic team said it would be with the stimulus package. In fact, I strongly suspect it won't even be down to the projected "without the recovery plan" levels of 9.0% and 6.0%.
The chart comes from Innocent Bystanders, via Ace of Spades.
UPDATE: Campaign Spot on NRO reminds us of what Pres. Obama said about the stimulus last February:
And the most — the biggest measure of success is whether we stop contracting and shedding jobs, and we start growing again. Now, you know, I don't have a crystal ball, and as I said, this is an unprecedented crisis. But my hope is that after a difficult year — and this year is going to be a difficult year — that businesses start investing again, they start making decisions that, you know, in fact, there's money to be made out there; customers — or consumers start feeling that their jobs are stable and safe, and they start making purchases again.
So, what are the things that the Obama Administration and the Democratic Congress are doing to encourage "businesses [to] start investing again" and to help "consumers start feeling that their jobs are stable and safe"? Massive deficits? Massive tax increases? Massive government bureaucracies? Increased regulation? Government expansion into the private sector? Yeah, that will encourage both businesses and consumers.  ..bruce w..
Category: 2010 Election, Economics, Idiot Congresspersons, Main, Obama Administration, Sea of deficits, Stimulus, US Politics
Webster is Principal and Founder at Bruce F. Webster & Associates, as well as an Adjunct Professor of Computer Science at Brigham Young University. He works with organizations to help them with troubled or failed information technology (IT) projects. He has also worked in several dozen legal cases as a consultant and as a testifying expert, both in the United States and Japan. He can be reached at bwebster@bfwa.com, or you can follow him on Twitter as @bfwebster.